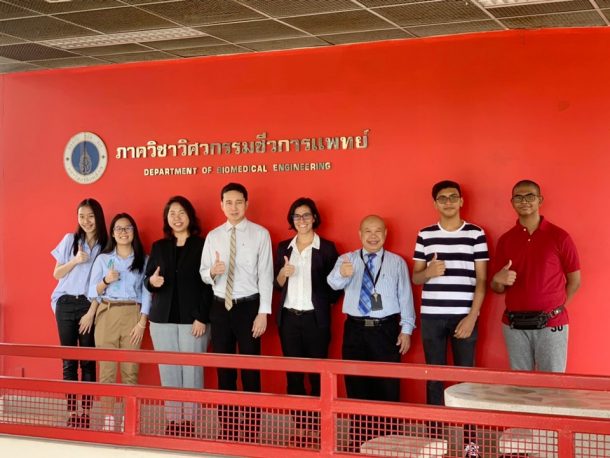 This summer, a group of our science-minded high school students had the unique opportunity to engage in internships in collaboration with professors and graduate students of the Department of Biomedical Engineering, Faculty of Engineering, Mahidol University.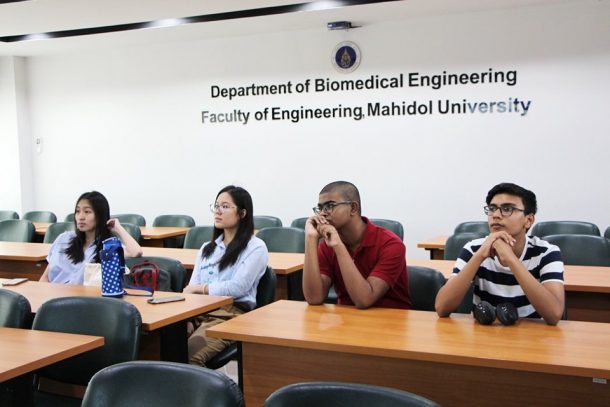 The students dedicated four weeks to this experience, working closely with professors and graduate students in Mahidol's biomedical engineering research labs. The topics varied from cardiology to brain computer imaging to artificial organs!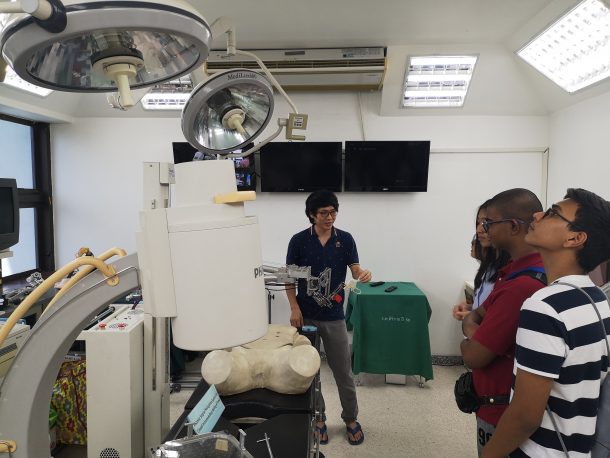 Wells would like to extend its gratitude to Professor Norased Nasongkla and the Biomedical Engineering Department to opening its doors to our students, and giving them invaluable, hands-on experiences and inspiration this summer.
Below are student reflections detailing their internship experiences: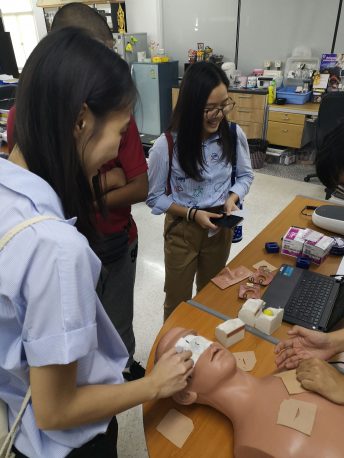 Sasha, Class of 2020:
"I ended up interning in 2 different labs: Biopolymers and Nanoengineering for Drug Delivery and Molecular Imaging (BioNEDD), and the Center for Biomedical and Robotics Technology (BART). For the BioNEDD lab, we were introduced to different methods of drug delivery, and how there were different parts to the entire procedure. The carrier (niosome) for the drug had to be prepared beforehand. We used the thin film hydration method. We also had to calculate the efficiency of the drug once it was delivered into the cell. We learned about cell culturing and the extraction process. It was a lot to take in over the course of two weeks, but it was much easier to understand when we could apply this knowledge into practical, laboratory work.
At the BART lab, we learned about Arduino, which is a coding platform for microcontrollers and microprocessors. We learned how to connect motors, sensors, and LED lights together, coding it so they work together as one robot. We put our new mini robot into a teddy bear so that the bear could move its arms if you wave your hand in front of the sensor. The most challenging part was getting the sensor to work, as you had to cut a small hole in the front of the bear. Apart from what I learned during the labs, I also got to push myself out of my comfort zone, like working with new people from different age levels, both older and younger. This was a new experience for me, and overall I enjoyed it."
Ern, Class of 2020:
"I participated in the program at the BioSENS lab with my partner, Om. We worked on a project called "Synthesis of Gold Nanoparticles", in which we learned to produce gold and ways that we can detect nanoparticles. We also got to use a machine called "UV Vis Spectrophotometer", which I've only heard of in class, but never got to use it or see it. It was cool to see the advanced technologies that are used to carry out in depth research in action. In addition, we carried out research on how to synthesize the nanoparticles so that they don't vary in shape and size as much after finishing the first experiment. As a result, we found a chemical called EDA that reduces the variation of sizes and shapes of gold nanoparticles. 
To sum up my experience at this internship, it was an eye-opening journey and I am thankful that I did not pass up this experience because I got to meet a lot of intelligent and friendly people, not to mention gain so much knowledge about this area of study. This summer has been meaningful and knowledgeable for me."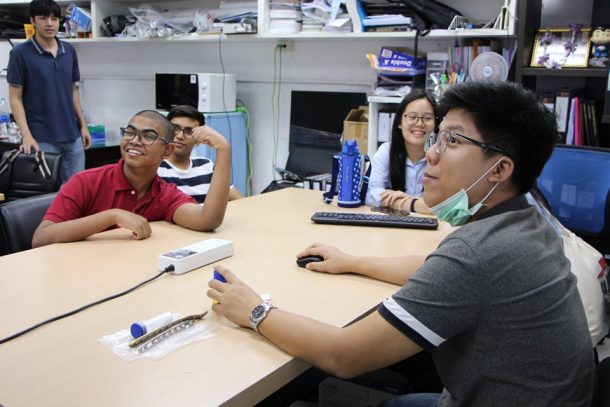 Nimaan, Class of 2022:
"My partner and I were placed on the BART lab. During the internship we had learnt how upcoming technology can be used during operations in order to help the doctors save the patient's life. We were them introduced to one of the software which can be used, Arduino. The professor had taught us the basics of it an how to use the software an ocde a robot. We were then given a project, we had to make a robot and put it into a teddy bear in order to move the bear's body in a certain motion.
The things learnt in regard to this internship were way more difficult than our school studies, because it was at university level. After the first day, I adapted and  learnt new things from all of them. After this internship I noticed that I had more knowledge into the tools used in labs and about robotics and how it is used in helping doctors. Overall, this was a great experience and it helped me realize whether I want to pursue a career in genetic engineering or not. I'm also really looking forward to more opportunities like this in the future and would like to thank Wells and especially the science department for making this internship possible."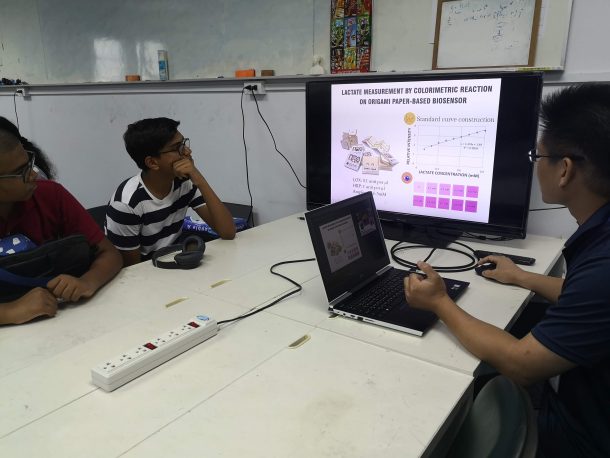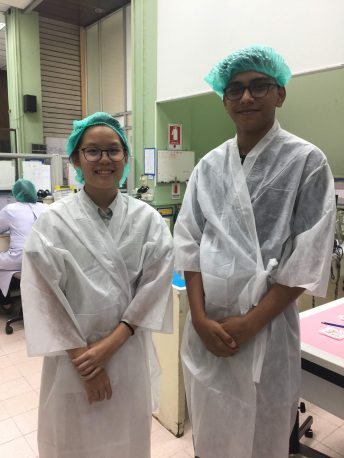 Om, Class of 2022:
"When Wells presented an opportunity to work at Mahidol University as a summer intern, I decided to take it as I have always had a passion for this kind of stuff. I spent four weeks at Mahidol in total, two of those weeks I spent in the BioSensor Lab and the other two weeks in the Brain Computer Interface Lab. I always had great support from the other people in the labs and they were always happy to answer questions. This internship didn't just change me academically it also made me very open-minded because I got to meet a lot of new people. 
In my BioSensor Lab, me and my lab partner, Ern, worked on a project called the "Synthesis of Gold Nanoparticles." Gold Nanoparticles or AuNPs are being used by scientists all around the globe because of its vast number of applications such as: cancer therapy, radiofrequency therapy, angiogenesis therapy, antibacterial therapy and drug vectorization. In the end, we successfully made the gold nanoparticles and we tested it on a "lab on a chip." In my BCI Lab, me and my lab partners, Nicky and Nacky, studied about the various parts of the brain and their functions. We also did some experiments on the EEG and ECG machines in the lab and read a bunch of research papers. Our main project was to find a disease which is quite common and cure it by using one of the machines in the lab. I chose the disease "congenital amputation" which is basically, someone who has a missing limb and I had to explain how to cure this by using a prosthetic arm. In conclusion, I had a lot of fun doing this internship and I gained a lot of valuable experience in my time there."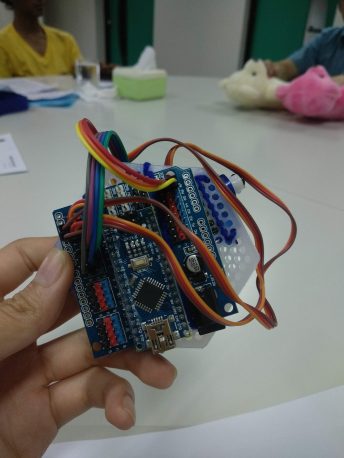 Uday, Class of 2022:
"Splendid is one of the few words that exist, to describe my experience in the Mahidol Salaya campus. I learnt numerous amounts of skills in the internship, but most importantly, the internship helped me appreciate the art of engineering as a whole, and made me look forward to my career in it. Along with helping my grow a spark in my career in engineering, it also gave me a unique life experience. I was assigned to the BART Lab (Biomedical and Robotics Technology), where me and my peers had built and coded a miniature robotic skeleton that was able to fit inside a teddy bear. 
One of the most important skills I took away from this internship was teamwork skills. This is because, whilst working in a team of 3, many conflicts rose up. Moreover, many of my peers disagreed with my methods and ideas, in completing the project. Likewise, I too disagreed with my peer's methods and ideas. However, as time went by, we all came up with a mutual solution to the problem and we all finished the project together with satisfaction. The following problem greatly helped build my teamwork skills, a skill I believe will be very useful in the near future."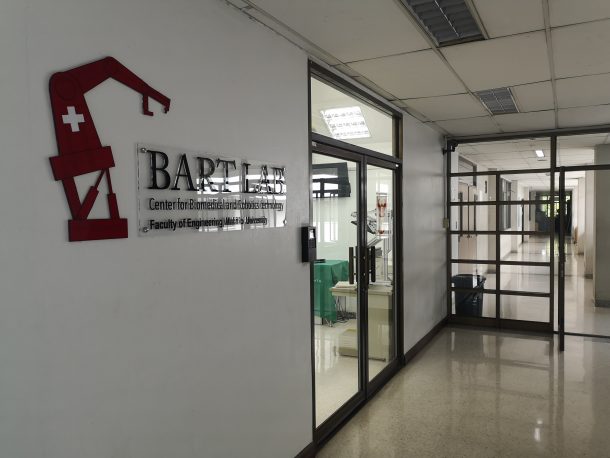 Nicky, Class of 2022:
"We got to open our eyes and observe a day in the life of college students. Furthermore, we learned the format of a thesis, tasks or research accomplished daily by Mahidol students. Everyday was a fresh start and an opportunity to learn something new. We got  the chance to try to measure EEG and get to see the result. During the second week, we got to learn about research papers and tried the ECG machine. Mahidol students were capable, friendly and helpful.They even shared their experience at Mahidol university and gave information about the Biomedical Engineering Department at Mahidol University. In conclusion, this internship is a great opportunity to learn more about the Biomedical Engineering department. It has been memorable and one of the exceptional chances to explore Mahidol university, have fun with your friends and learn at the same time."
Nacky, Class of 2022:
"I have learned many things over the course of my two week internship at Mahidol university. I was an intern for the Brain interface (BCI) lab. At the beginning, the days and activities showed me the daily life of Mahidol Biomedical engineering students. It showed me a different side to what we have seen in highschool. For instance, the ways that university students have their projects, assignments, and the way they write their thesis. I like how they provide us some quality time to be able to learn the basics of BCI and parts of brain before getting into the course and experiments.
We also got to learn EMG and many other machines in the lab.It was exciting to see.We even got to try the EEG cap and look at the results of our EEG. During the second week,  we read research papers and learned how to make presentations, and learned about ECG. We had to make our own presentations and present in front of the students in the lab. Mahidol students were nice and friendly. They encouraged me to learn and participate in activities. They even provided us information about their university and the biomedical program in terms of what we learn in each year. .Overall, it has been  a great experience to learn new information that can be applied both in and outside of school."