AP
®
Classes and AP Capstone Diploma
What is the AP?
AP is the Advanced Placement® (AP) program offered through the College Board®, based in the United States but recognized world-wide for the rigorous courses preparing students in university-level content. These courses  were designed for advancing high school students through college-level courses, and as a result, students can be placed into advanced courses upon entering university with many giving credit if the final exam scores are sufficient. To learn more about the general AP programs, please visit the College Board AP website.
Well International School offers AP classes starting in grade 10, though students can continue to take the exams into grade 11 and 12. These offer students opportunities to show their affinity for challenge and a willingness to learn deeply about these subjects. 
For students looking to take it one step further, Wells also offers the AP Capstone®, a program that encompases two yearlong courses in addition to the traditional subject-based AP courses. AP Seminar®  and AP Research®  are taken consecutively, starting with AP Seminar in grade 10 and followed by AP Research in grade 11. Wells is one of the few international schools that offers the AP Capstone program here in Thailand, providing high-achieving students a unique opportunity to pursue a dual diploma in both AP Capstone and the IB Diploma. 
Why take the AP Capstone?
AP Capstone offers students two unique courses that build the skills they need to succeed in higher level courses offered in high school, such as the AP and IB courses, as well as a unique preparation for university. Read below for more information and visit the official website here:
Participate in the AP Capstone Diploma Program – AP Students | College Board
AP Seminar
The first year, students embark on skills-focused journey in AP Seminar, learning with the QUEST framework to establish research questions and inquiry into their personal interests, understanding various perspectives of issues, incorporating other subject knowledge as well as information beyond any courses they currently take through important research, reading, writing and team-work skills. Students learn to work with others to create solutions to issues they are passionate about. 
AP Seminar is also a course that gives students a significant amount of freedom, and thereby instilling important self-management capabilities as they work alone and with others towards the performance 
assessments throughout the second semester. There is also a comprehensive examination in May at the end of the school year.
AP Research
In the second year, students who pass AP Seminar with a score of 3 or higher move onto AP Research, where they improve their independent-learning skills and focus on a single topic for in-depth research, culminating in a formal research paper and a presentation and oral defense as the final assessment. 
"AP Capstone helps students develop key skills that they will use over and over in college: conducting research and communicating their results."
 Stu Schmill, Dean of Admissions and Student Financial Services, Massachusetts Institute of Technology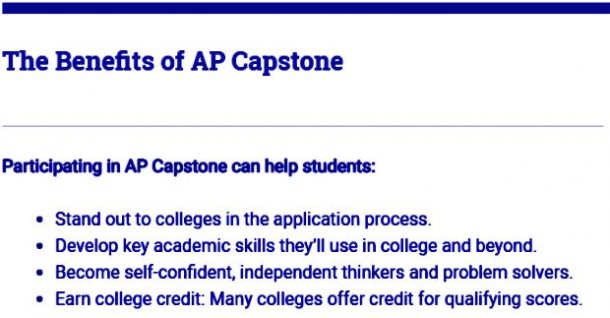 Image: Benefits for students in the AP Capstone program from website AP Central | College Board (https://apcentral.collegeboard.org/courses/ap-capstone) 
What courses are available? 
Some of the classes taught at Wells include the following list. However, students are also encouraged to take exams in any area of interest they have, such as AP Economics or an AP language exam. 
AP Biology

AP Computer Science Principles

AP English and Composition

AP Environmental Studies

AP Modern World History

AP Statistics

AP Calculus

AP Physics
AP Capstone Program
Informational slides on Wells AP Capstone Program: 
Wells AP Capstone Introduction (updated May 2021) – Google Slides
Option 1: 
Grade 10

Grade 11 

OR 

Grade 12
Option 2:
| | |
| --- | --- |
| Grade 11 | Grade 12 |
| | |
AP Capstone Diploma will be awarded to students taking AP Seminar & AP Research courses and exams, and four additional AP Exams (passing all with a score of 3 or higher).
AP Seminar/Research Certificate will be awarded to students taking AP Seminar & AP Research courses and exams (passing all with a score of 3 or higher).