International Baccalaureate Diploma Programme (IBDP) at Wells
Wells International School has been a certified IB World School since 2015, graduating its first DP candidates in 2017. Visit our Wells Profile on IBO.org. 
All students graduating from Wells International School receive the Wells International School Diploma after completing the requirements. One of the requirements for all WIS graduates is completion of the Creativity, Activity, Service (CAS) portfolio during grades 11 and 12. These extracurricular experiences are opportunities to engage with the world outside of academic courses and help students in discovering their strengths and interests.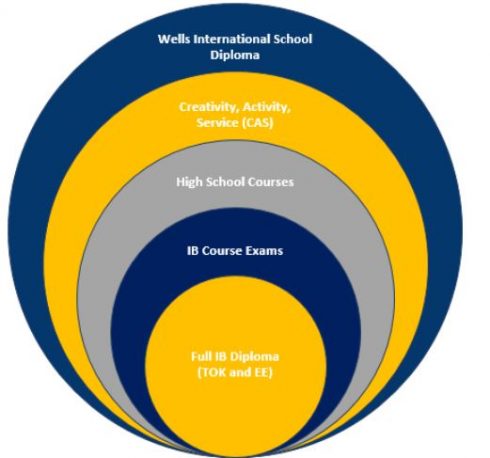 Wells High School and the IB Diploma Programme
The IB Courses
During grades 11 and 12, WIS students take courses based on the IB Diploma Programme (DP) framework, engaging them in the rigor that prepares them for study in universities across the world. The DP is recognized throughout the world for its international approach, providing students the habits and tools to tackle global issues. Students who enroll as IB Course Candidates can take examinations at the end of the two-year courses if they wish to receive a certificate for their accomplishments in the course. In addition to subject courses, students can also register for the IB Theory of Knowledge course and/or complete the Extended Essay as certificates. 
The IB Diploma Programme (DP)
The full diploma programme is the most rigorous path, requiring students to take three of the courses at the higher levels where they engage with some of the more sophisticated concepts and topics within the course. The framework of the IB is to encourage a broad appreciation of knowledge and skills, requiring students to take courses across the humanities, including in-depth language study with literature course and a social sciences course, a study of an additional language at any level, as well as one experimental sciences course and one mathematics course, with an options for arts. In total, students must take six subject courses.
The IB DP Core
In addition to these general courses, the IB DP also requires completion of the IB Core — the Theory of Knowledge (TOK) course and the Extended Essay (EE). The TOK course links all subject courses together by examining how knowledge is acquired and created through various disciplines and perspectives. For the EE, students must complete an extended inquiry into a topic within one of the subject areas, recording reflections along the way under guidance of a supervisor. The final product is an approximately 4,000 word formal essay following the structure of academic research in the selected subject. Both TOK and EE are completed in an IB Core class that stretches across grades 11 and 12.
Benefits of IB Programme: University and beyond
Through the entire program, IB DP candidates are provided opportunities to critically reflect on their own viewpoints and consider views of others, communicate effectively and respectfully about their understandings, leading them to have the capacity to contribute positively to their communities and the greater global community. 
Learn more
If you would like to know more about the benefits of the IB framework and the IB Diploma Programme in preparing students to be engaged global citizens, critical thinkers, and resilient learners, explore the links below:
Diploma Programme (DP) – International Baccalaureate® (ibo.org)
Diploma Programme (DP) | IB Community Blog (ibo.org)
Diploma Years Studies | Research – International Baccalaureate® (ibo.org)
2022 Course Offerings
Group 1
English A: Language & Literature (HL/SL)

Thai A: Language & Literature (HL/SL)

School Supported Self-Taught Language A: Literature (SL)

English B: English Acquisition (HL/SL)
Group 2
Spanish ab initio (SL)

French ab initio (SL)

**online only**
Group 3
Business Management  (HL/SL)

Environmental Systems and Societies (SL)

Psychology (HL/SL)
Group 4
Biology (HL/SL)

Chemistry (HL/SL)

Computer Science  (HL/SL)

Environmental Systems and Societies (SL)
Group 5
Mathematics Analysis & Approaches (HL/SL)

Mathematics Applications & Interpretations (HL/SL)
Group 6
Visual Arts (HL/SL)

Film (SL)

**online only**