College Board's AP Computer Science Principles course gets award in for 2019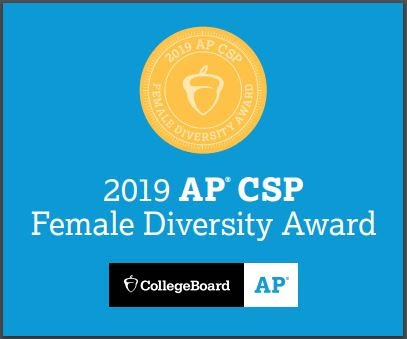 Each year, Wells offers students in grade 10 and above the opportunity to build skills in creative problem solving, programming, and using computational processes to analyze large data sets by taking the AP Computer Science Principles course. This one-year course prepares students to take the AP exam in May, and walk away with skills they can apply to their futures. According to the World Economic Forum, having knowledge and skills in technology is one of the three skills sets essential for future workers of 2030. Aside from these skills, students also gain an understanding of how the internet works, cyber security issues, as well as the impacts of computer innovations.
Students who took the exam in May 2019 worked on projects including…
– Augmented Reality(AR) 
– The Ultimate Test game like tricky trivia
– Bullseye Challenge
In addition to these exciting accomplishments, the College board recognized Wells AP Computer Science Principles class of 2019 with College Board's Female Diversity Award. Schools honored with the AP Computer Science Female Diversity Award have expanded young women's access to AP computer science courses.

Out of the 20,000 institutions that offer AP courses, 818 achieved this important result during the 2018-2019 school year–nearly 20% more than the 685 schools recognized last year. In 2019, Wells International School was one of 639 recognized in the category of AP Computer Science Principles. "Wells is empowering young women to see themselves as creators, innovators, and problem-solvers," said Stefanie Sanford, College Board global policy chief. "We hope to see even more high schools inspire female students to harness the potential of an AP computer science education."
As Wells students begin to make their course selections for grade 10, or are looking ahead as middle schoolers, we encourage them to consider the AP Computer Science Principles course for its rigor in giving them an opportunity to explore the expanding world of computer science and information technology.