About Camille Clarin
Camille Clarin is a 20-year-old Fil-Canadian, who was born and raised in Canada. At a young age, she was able to experience different kinds of circumstances, from living away from her family at the age of 14 to flying across the world to chase her dreams. At the age of 16, she tore her ACL and as a result, she had to put in a lot of work to get back in shape, which was a really difficult time for her and her family. 
Camille isn't only great in basketball but she also excels in school with a 3.83 GPA. Camille was disappointed about the University Athletic Association of the Philippines (UAAP) which is the top collegiate sports organization in the Philippines. These big schools have thousands of supporters watching them but since basketball is a non-dominated sport for women, she and her teammates did not receive a lot of support, despite their 96-0 streak. 
Due to that, she wants to change our society's perspective on women in sports. She believes that people should watch women play "not because of what they wear, but because of how they play". They put in the same kind of effort, and have the same resilience, perseverance, and dedication as men do. Clarin is an advocate for sports equality. She points out that people tend to forget to support women who play basketball, as it can sometimes be perceived as a male-dominated sport. Regardless, there are many women basketball players who are talented and passionate about what they do.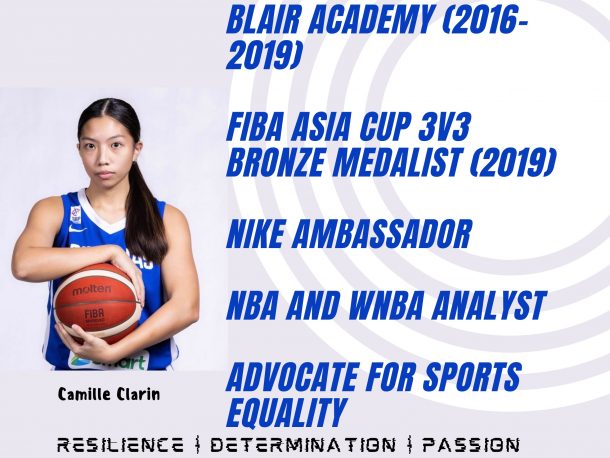 The Importance of Perseverance
On Tuesday, October 12th, members from the BDFY Club, teachers, staff, and high school students, together with a few middle school students participated in an online Q&A with Camille. The purpose of the event was for Camille to share her experiences with the students and serve as a good reminder that there are other people who go through ups and downs in life. With this, students could receive advice in dealing with challenges and adversity, as well as make informed decisions about their futures.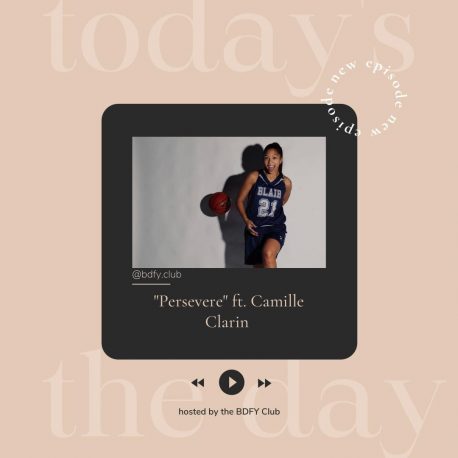 As a positive influential figure or athlete, we asked her if she receives criticism and how she deals with it. According to Camille, she says that she is very lucky as she only receives criticism whenever she plays. On the other hand, she feels a little frustrated whenever there are people who want to bring her down. People never really know how hard-working she is. Nevertheless, at the end of the day, she knows that she cannot please everyone. As she reminded us, "Everything is good at the end, so if it's not good, it's not the end".
Lastly, we asked her what advice she could give to students who do not have as much self-confidence. She replied by saying, "If you put in the work, and you believe in what you do, your confidence will come". It is really important to build a relationship with yourself, and it will take time to develop self-confidence.

The full interview can be accessed here.
Special Thanks
The Wells community would like to extend its appreciation and gratitude to Camille for sharing her story and serving as a positive role model for our students. Special thanks also goes to our dedicated and hard-working BDFY club leaders for reaching out to Camille and hosting this inspiring talk. 
Written By: Maria Bianca Cassandra Castillo and Atiqah Myiesha Binte Haszlan (Class of 2024)