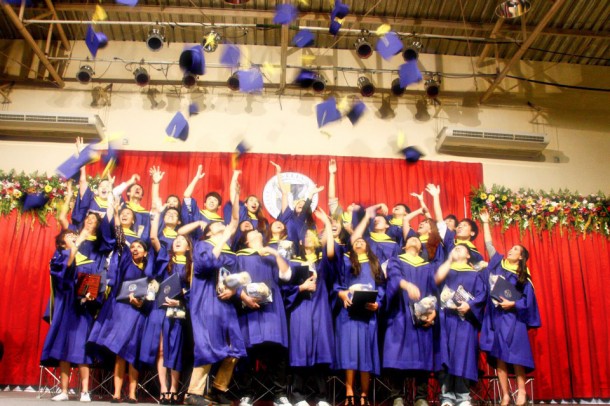 Growth – as much as we had valued the small, tight-knit learning community we had been for the first five years in operation, this year we needed to face the inevitable. It is this growth spurt, just as a teenager emerging out of adolescence, that most defines the 2011-2012 school year. This year's graduating class will be able to look back at their senior year with pride. From Washington State to Boston U, from NYU to University of Nebraska, this class more than doubled the number of universities around the world on the list of schools accepting Wells graduates. More than any class before them, these seniors helped Wells to truly make the transition from an up-and-coming "small school" into an established and well-respected, mid-sized academic institution. With the memories of our first graduated class already tucked away in our school archives, this year proved to us that no matter how many classes walk through our halls, we will always strive to provide something as new, as memorable, and as special as the previous year, that will allow our current seniors to look back at and say, "Yes! That was my senior year – the BEST year Wells has ever had!"
The graduating class of 2011 will be able to look back at a year when their school truly began to assert itself as a force to contend with in virtually all aspects of academia. Though still a relatively small, tight-knit learning community, this year has been marked by several notable accomplishments that would typically be associated with the much larger institutions. Our students dominated over other international schools at the Asia Books Readers' Theatre, TISAC "So You Think You Can Dance?" and TISAC "Battle of the Bands" competitions, capturing top prizes in both junior and senior divisions. In sports, our trophy case continues to fill with championships in basketball, badminton, and soccer, and even athletes from even the largest international schools in Bangkok have a growing respect for the Seahawk sports program. Most impressively, our students became the national champions at the most recent World Scholar's Cup tournament in Thailand.
So, to our graduating seniors, I do hope that no matter where your future takes you, you will be able to look back fondly at your senior year in high school. You will most certainly be missed. On behalf of the entire Wells Leadership Team, our teachers, staff, and the underclassmen that look up to you, I wish you the best of luck for a life of success and happiness.
Aloha,
Mr. Ray
Congratulations to our departing seniors for their acceptances to the following universities (Wells students received scholarship offers to the italicized institutions):
United States: Boston University, Columbia College, Dean College, Drexel University, Florida Institute of Technology, Goucher College, Idaho State University, Loyola Marymount University, Missouri State University, New York Institute of Technology, New York University, State University of New York, University of Nebraska – Lincoln, University of Pacific, Washington State University, Westminster College, Widener University
Thailand: Chulalongkorn University, Mahidol University, Thammasat University, Webster University
Australia: Deakin University, Monash University
China: Huazhong University of Science and Technology, Sun Yat Sen University
United Kingdom: London College of Fashion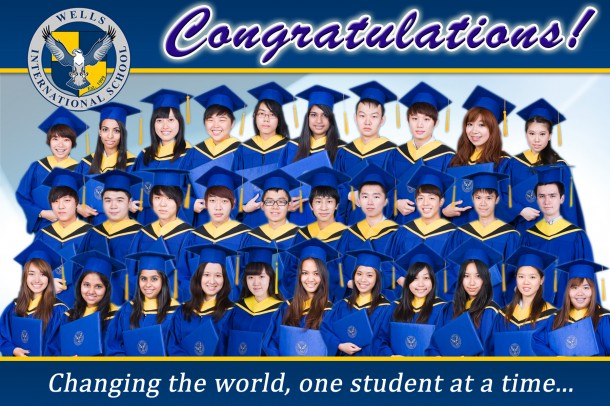 Visit our Facebook albums to see photos of the departing 2012 seniors and the graduation ceremony.