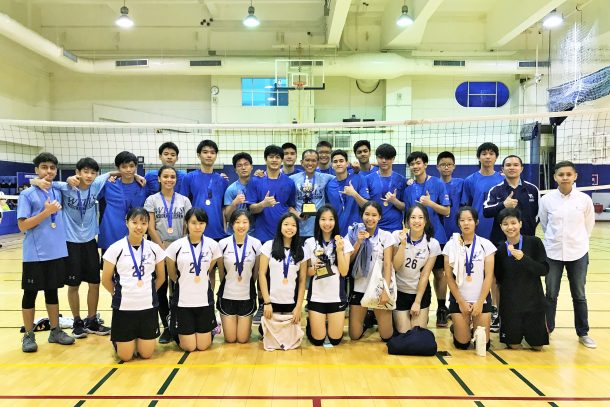 In their second major tournament of the still young season, the varsity boys volleyball team once again faced the big boys from BISAC and across the region, this time at the NIST International School Falcon Invitational Tournament on Saturday.
In pool play, Wells came out strong, beating UNIS-Hanoi from Vietnam, 2-0 (25-15, 25-10). With little time to catch their breaths, the boys were then pushed to a tiebreak set against heavy-hitting Bangkok Pattana, but still came up on top 2-1 (25-19, 17-25, 15-10) to win the pool and the right to play for the championship.
In the championship game, our Seahawks faced host NIST, winners of their pool, in a battle of two undefeated teams. The boys were a bit rattled by a raucous home crowd, falling far behind in the first set, before clawing back but eventually falling 22-25. With momentum on their side, Wells cruised through the second set, easily winning 25-13. However, the tiebreaker set was a seesaw battle with our boys finding themselves behind 20-22. With one final push and a key series of monster blocks by sophomore MB Pew Apithanangsiri (#4), our boys powered past the home team, appropriately clinching it with a big assist-kill combo by co-captains Insee Akarapan (#9) and Sean Ogden (#15) to end the game at 25-23 and the match at 2-1.
With the NIST championship trophy and the recent RIS championship trophy, Wells completes a 2-week sweep over the top four BISAC schools: ISB, Ruamrudee, Bangkok Pattana, and NIST.
VARSITY GIRLS WIN FIRST TROPHY OF THE SEASON
Also in action on Saturday at the NIST tournament were the girls. Picking up their first win of the season earlier in the week, the Lady Seahawks were anxious to prove to themselves that they can be a force to contend with.
Facing eventual girls champions Ruamrudee (RIS) in their first game, Wells fell quickly 2-0. However, our girls regrouped and were able to pull off a win against UNIS-Hanoi 2-0 to earn the right to play against Harrow International School Bangkok (HIS), the second place team from Pool B. In their final match of the tournament, the girls pulled together to beat their first BISAC school of the year, 2-0, to earn themselves bronze medals and the 3rd place trophy.
UPCOMING TOURNAMENTS
Both boys and girls varsity teams will be preparing for several tournaments featuring schools from all around Southeast Asia. The BIG one is up next — the 16-team ISB Panther Invitational on Friday and Saturday, September 29-30. We would LOVE for parents and students to come and watch our Wells teams in action on either day. With a total of 32 teams in both volleyball and football, it is a carnival atmosphere with non-stop sports action at ISB's massive sports complex.
The boys will also be traveling to Kuala Lumpur, Malaysia, to play in the Twin Towers Classic from October 5-7. Finally, the AISAA League Championship Tournaments will be held in mid-October with the girls playing at Concordian International School and the boys at Wells.