On Sunday, December 12th, 2021, our Wells MUN team hosted our first virtual, and 6th Model United Nations (MUN) Conference, WISMUN VI. In these times where we are still living with the pandemic, we wanted to provide the opportunity for our MUN students to practice their skills and collaborate with students from other international schools in a virtual environment.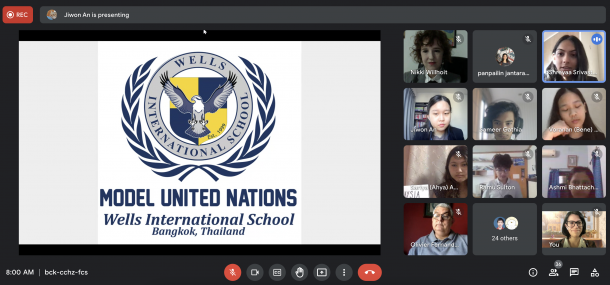 Opening Ceremony
In the opening ceremony, we had the honor of having a great role model as our keynote speaker. Ploy is a diplomat in the Thai Ministry of Foreign Affairs who is currently reading a postgraduate degree in international law at the University of Oxford. Her responsibilities include drugs and crime issues under the purview of the United Nations Economic and Social Council. She was an avid MUN debater in high school. After graduating from Ruamrudee International School in 2017, she has gone on to study her first degree in law at Queen Mary, University of London on a full scholarship from the Thai government and partial scholarships from the university. During her time in London, she has held various leadership and debating roles. In her free time, she writes articles on legal and foreign affairs. As a former MUN member, Ploy served as a great model for our MUN participants aspiring for a future career in diplomacy, or international relations or law.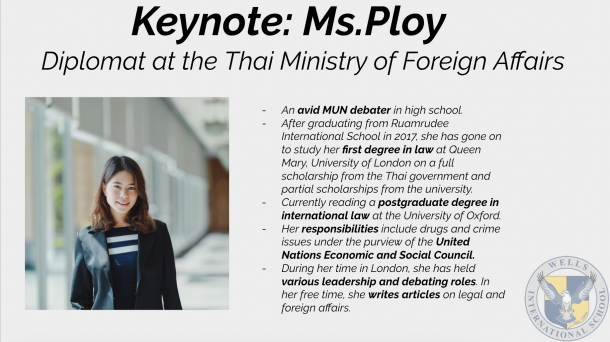 Collaboration in Committees
There were four main committees held in the conference: United Nations Human Rights Council (UNRC), UN4MUN, World Health Organization (WHO) and United Nations Educational, Scientific and Cultural Organization (UNESCO). UNHRC focused on discussing the question of dealing with Hindu-Muslim disputes in South Asia, whereas UN4MUN explored the question of improving rights for indigenous communities in Africa. In the WHO, delegates focused on the question of operating a mental health action plan: the promotion of care and treatment. And finally, UNESCO delegates examined the question of ensuring quality education and increasing accessibility to e-learning for children.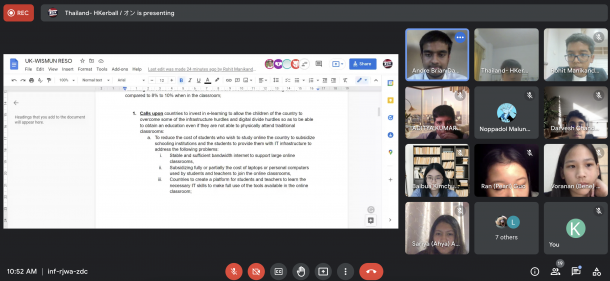 Overall, the students engaged in productive collaboration, resolution making and debates on the various issues from different perspectives. There was a high level of engagement and initiative shown from delegates, and the chairs did an excellent job of facilitating the conversations and ensuring MUN protocol and standards were maintained in a virtual environment.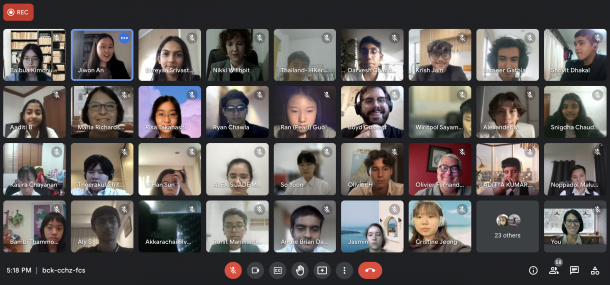 In the closing ceremony, the chairs shared summaries of the day's events in their committees and commended great performance by awarding best delegates and overall best chairs, as well as some fun superlatives. The following awards were presented: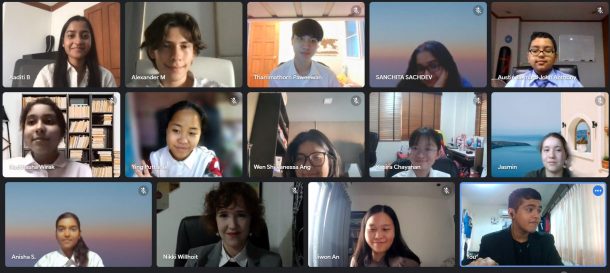 Best Chair: Shovit Dhakal from EIS (UN4MUN) 
Best Chair Honorable Mention: Aaditi Bhandari from NIST (UN4MUN)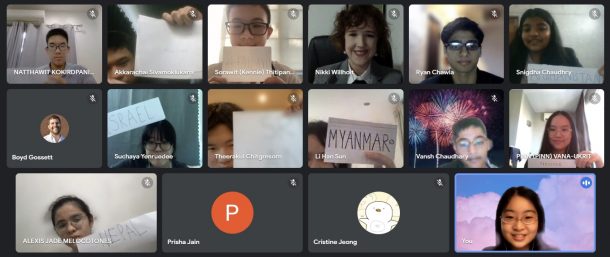 UNHRC
Best Delegate: Natthawit Kokirdpanich, Delegate of India (IPS)
Honorable Mention: Alexis Jade Melocontones, Delegate of Nepal (IPS)
UN4MUN
Best Delegate: Nadthasha Wirak, Delegate of DRC (IPS)
Honorable Mention: Thammathorn Paweewan, Delegate of Angola (EIS)
WHO 
Best Delegate: Olivier Hildebrand, Delegate of India (NIST)
Honorable Mentions: Delegates of UK, Canada, China & Pakistan
UNESCO
Best Delegate: Andre Brian Danny, Delegate of UK (IPS)
Honorable Mentions: Delegates of Singapore, New Zealand, U.S., Philippines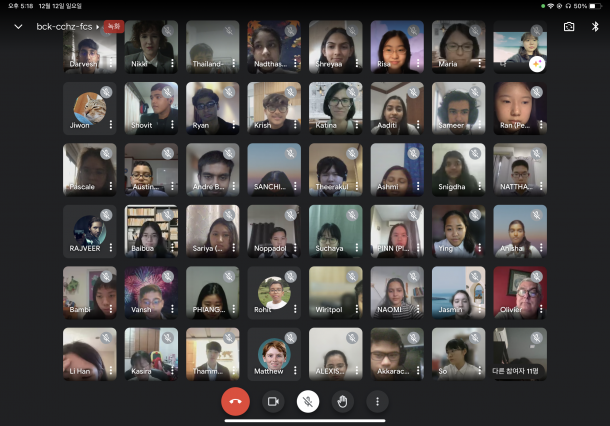 Special Thanks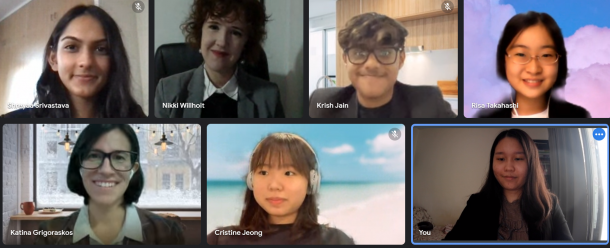 Special thanks go to Ms. Nikki, Dr. Katina, Shreyaa Srivastava, Jiwon An, Cristine Jeong (Class of 2022), Risa Takahashi, Krish Jain and Sameer Gathia (Class of 2024), for their team efforts in organizing and coordinating the conference. Thank you to all of the schools who participated, including students and advisors from Amnuay Silpa, American School of Bangkok, Ekkamai International School, International Pioneers School, NIST, Ruamrudee, St. Stephen's International School, and St. Mark's International School.
It was a memorable and meaningful experience, and we are humbled to have had so many eager MUN participants take part and spend their time discussing important global issues on a Sunday! We look forward to continued collaboration with our inter-school MUN network and future in-person conferences!