To kick off our Reading Olympics month the K3s celebrated with our very first Mystery Reader! We would like to give a great big thank you to Ms. Jessica Teal one of our former teachers here at Wells for stopping by and reading "The Story of Ferdnand".
The students were intrigued by how Ms. Jessica used her authentic Cuban accent to make the story come to life.
 There will be many more adventures that await us during our Reading Olympics month. So please continue to join us on our journey.
Written by: Ms. Anne – K3A Homeroom Teacher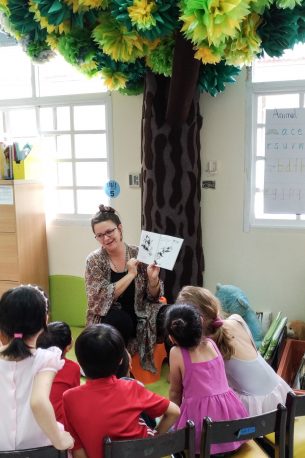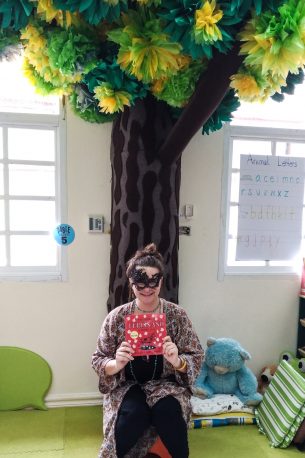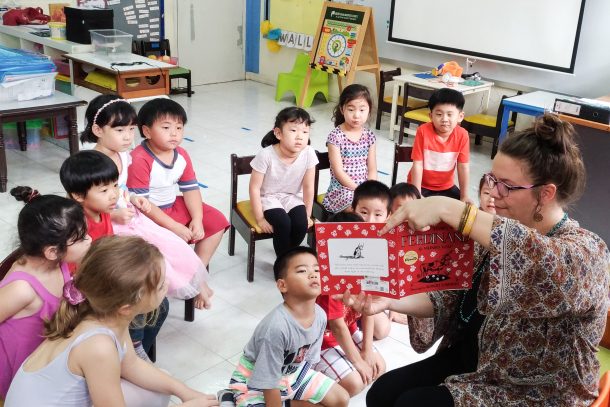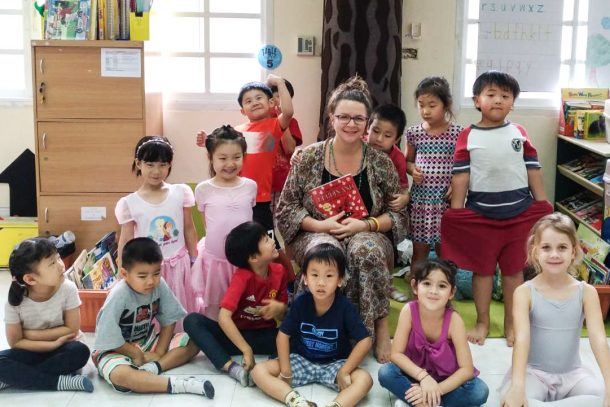 K3A Mystery Reader
As part of reading month, parents were invited and encouraged to come to class to read stories. The students had fun guessing who the reader might be and were pleasantly surprised at some of the volunteers who arrived at their door.
K3C were joined by Peter Meldrum, the father of Max Meldrum, who read them the classic Dr Seuss tale of The Lorax. The story was written in 1971 and addresses how factories and industry can affect the environment. Still a very apt subject in our day and age, about which the children had many questions.
Thank you Mr. Meldrum for your great reading, K3C thoroughly enjoyed it.  
Reading month continues until the end of March. Please feel free to contact the homeroom teachers if you would like to volunteer. We would love to accommodate you! 
-Written by: Mr. Anthony – K3C Teacher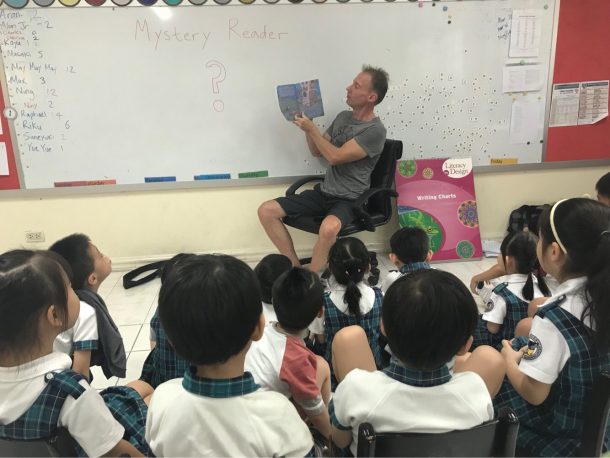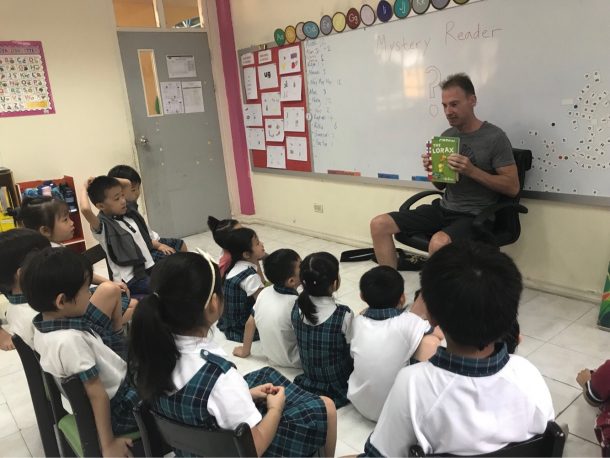 Author's Tea – Grade 1B 
Students from Grade 1B engaged in a writing project that integrated the mathematical concept of even numbers. First, students read the story, My Even Day by Doris Fischer and were inspired to create their own animals with even parts.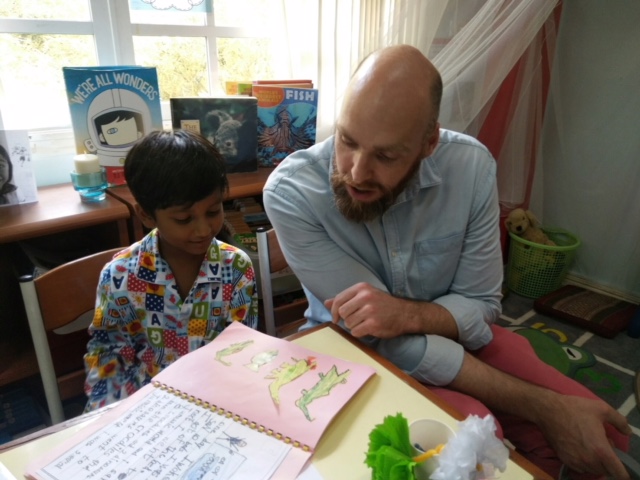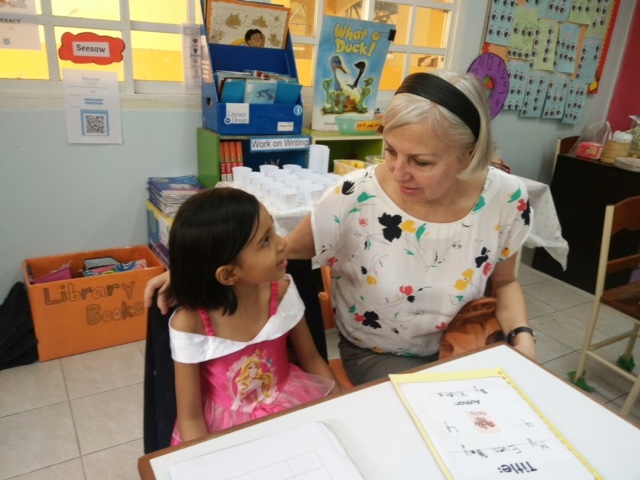 Next, they used their creations as characters for a narrative. This was followed by a period of 2 weeks, in which students worked on editing and revising their work. Finally, students published their very own book.
In order to celebrate our students' perseverance and motivation, we invited parents for an afternoon of stories and snacks. Parents visited every student in the class and provided positive feedback for them.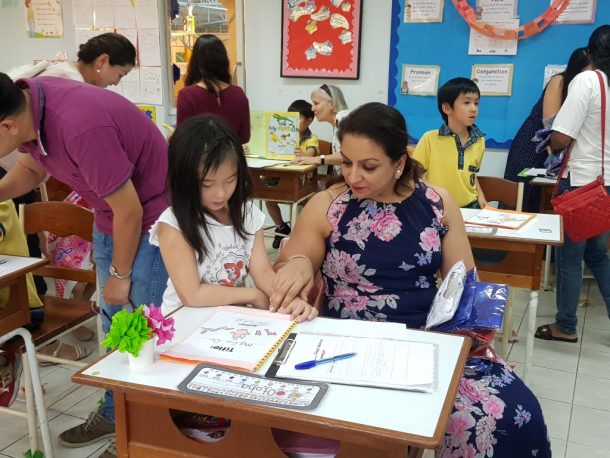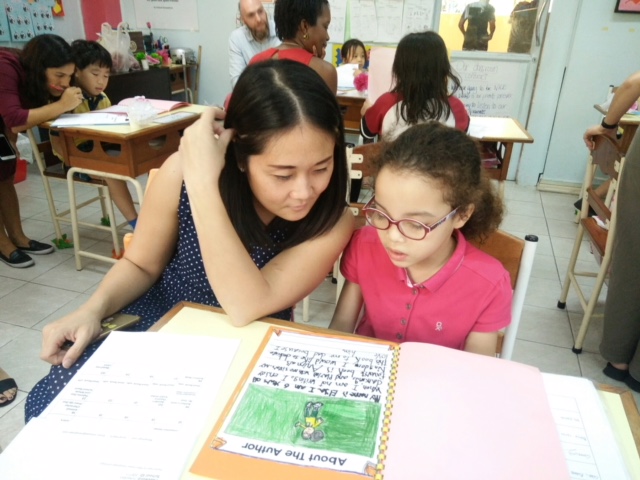 The Author's Tea objectives were to continue to motivate students to work in long term projects, nurture creativity, encourage students to learn from mistakes, enhance reading fluency, and promote pride on student work, all while still focusing on writing conventions and the understanding of even numbers. Job well done Grade 1B.
Written by: Mrs. Martin – G1B Homeroom Teacher
Special Guest
We were fortunate enough to have the On Nut high school reader's theater team come and perform something for us! They read us a wonderful story, they left us feeling inspired that maybe we can try our hand at reader's theater! Also their performing arts teacher Ms.J'nelle read us a fun story too! They came just in time for our reading month, so thank you for coming!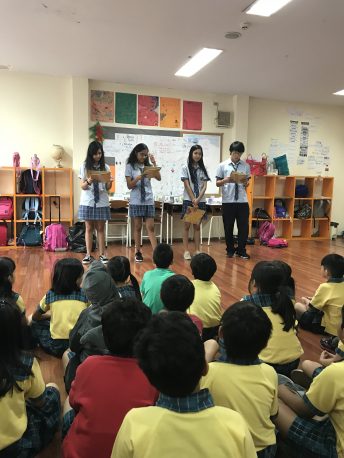 Today we had a very special guest , a published illustrator named Jose! He did the drawings for the book "Leo's pet bug" He came to us and explained that anyone and everyone can make a book! It took him many tries to draw and pick his character, he even gave us some tips and our own story board for us to write a book. Thanks Mr. Jose you are so inspiring!

Written by: Ms. Deme – G1B Homeroom Teacher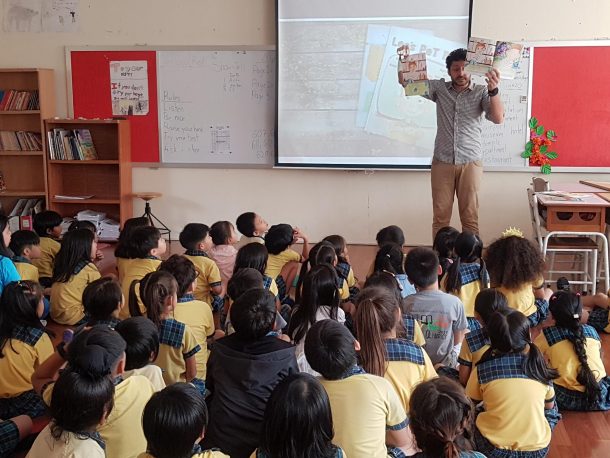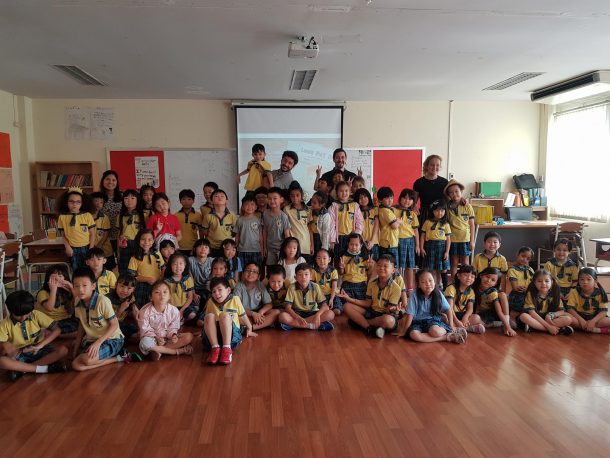 Written by: Ms. Deme – G1B Homeroom Teacher