Seahawks win both ISB Panther Invitational and AISAA Invitational Volleyball Tournaments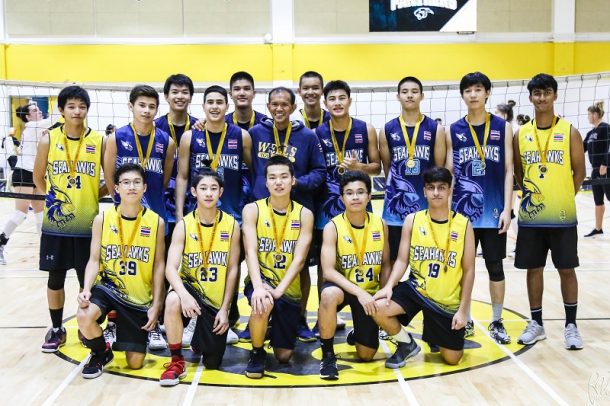 In yet another role as David, Wells varsity boys volleyball team faced another Goliath international schools, and, for the second year in a row, our Seahawks came out victorious, going undefeated after beating Stamford American International School (SAIS) from Singapore in the championship match of the International School Bangkok (ISB) Panther Invitational Volleyball Tournament held this past weekend.
The tournament, which ran over two days, featured international schools from Thailand and other Southeast Asia countries including Singapore and Vietnam.
On Friday, pool play began with wins against International Community School Bangkok, 2-0 (25-22, 25-15) and United World College Dover from Singapore, 2-0 (25-10, 25-18). The winning streak continued on Saturday against Saigon South International School from Vietnam, 2-0 (25-22, 25-12) putting us in 1st place in Pool A.
For the semi-finals, our boys faced host ISB, who placed 2nd in Pool B, winning 2-0 (25-21, 25-22), including a dramatic come-from-behind win in set 2.
Finally, the championship match turned out to be the most challenging with both Wells and SAIS going undefeated through their respective semi-final matches. However, after splitting the first two sets, the Seahawks proved too much for the Lions, cruising to a win in the tie-breaker for the championship trophy, 2-1 (25-21, 18-25, 15-5).
In the second tournament, held all day Sunday, a condensed version of the varsity boys squad took on other AISAA league teams, as well as visiting teams from Chonburi and Cambodia. Pool play turned out to be a cakewalk as Wells easily beat AISAA teams from Berkeley International School, 2-0 (25-10, 25-9) and Mahidol University International Demonstration School (MUIDS), 2-0 (25-5, 25-5), followed by a win against the International School of the Eastern Seaboard (ISE), 2-0 (25-23, 25-7). In the knock-out matches, Wells beat Logos International School from Cambodia, 2-0 (25-8, 25-15) and, finally, Ekamai International School, 2-0 (25-7, 25-19) to repeat as champions.
Also, playing in the tournaments were the Wells varsity girls who played hard, winning two matches, both against International School Ho Chi Minh City (ISHCMC), to place 7th at the ISB tournament. At the AISAA tournament, the girls went undefeated in pool play, but fell in the semi-finals to the eventual champions from Logos International School. The girls ended in 3rd place with a win against East-West International School from Cambodia.
Both teams continue the season with two more major tournaments, one in Malaysia and one in Vietnam, coming up through November.
To view the most recent varsity volleyball matches and many other Wells sports events, visit and subscribe to Sean Ogden's YouTube Channel.