The Parent-Teacher Conference (PTC) has always been considered to be one of the main events that takes place every year at Wells. This year, the PTC took place on October 2nd, 2020. This event allows students and their parents to have face-to-face conversations with the teachers about how their children have performed in their classes so far. They discussed the strengths, weaknesses and areas where the students can improve. Administrators put in a lot of effort to make this event possible so that parents are more involved in the students' lives at Wells. Many students, parents, and teachers benefited from this which will later help to improve the students' academics as a whole. 
These conferences are essential to schools because they allow efficient communication between teachers and parents. The relationship parents and teachers have is very important because with the cooperation from both parties, they will be able to help understand the students' strengths and weaknesses a lot better. This will be beneficial to the students' futures. According to parents in Wells, they believe that meeting the teacher individually has helped them understand where their children stand academically. The teachers also used this opportunity to gain the parents' trust when they met in person.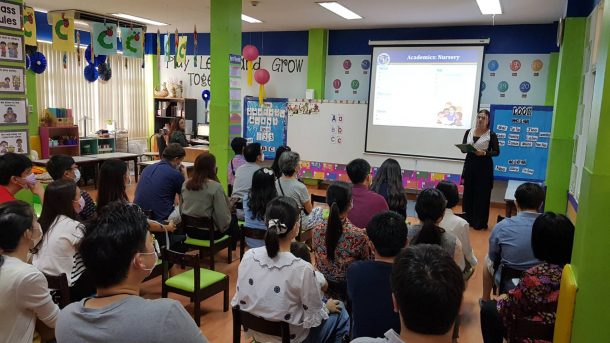 Parent-Teacher Conferences are not only for parents to hear about how their children are doing at school but also for students to share and discuss their concerns before their parents and teachers. Students at Wells said that by listening to teachers converse with their parents, they could clearly understand what they were doing well, and what they should improve on. Some also said that by hearing their teachers give positive feedback, they gained confidence to be risk-takers. As a result, not only parents, but also many students benefited from this PTC as well.
Administrators and teachers have been part of this event for over a decade and their response to this event was that PTCs are meant to provide an opportunity for both parents and guardians to get a glimpse of what is going on in their children's lives in school. The head of school, Mr. Ray, has also spoken with his fair share of parents. Mr. Ray has also added that he believes PTCs are an important part of school as it connects all parents, students, and teachers. He says it is important to come and see what the teachers have to share with them. 
In conclusion, Parent-Teacher Conferences have played a huge role in developing and helping students. The feedback students receive from their teachers helps them concentrate on specific areas which they need to pay attention to. This allows them to thrive in the future. Wells International School offers parents another opportunity to meet the teachers on appointments if they were unable to attend the conference which is arranged on a specified date. Wells believes that PTCs play an essential role in shaping the future of the students and "Changing the World, One Student at a Time". We are looking forward to PTC 2021.
Written By: Grade 9 LA Honors students, under the guidance of their teacher, Mr. Derrick Mukasa