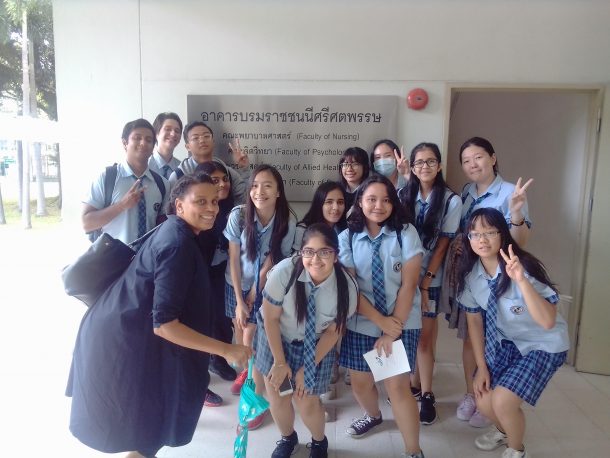 On Thursday, 8th November, 2018, as a class of twelve students along with two chaperones Ms.Viessa (Psychology Instructor) and Ms.Chawisa (Counselor), we went on a trip to Chulalongkorn University to observe and gain exposure to the university's Psychology Department. Just upon our arrival at the campus, we were welcomed by some of the most sublime and humble people, Mr.Karin (Head of the Psych Dept at Chula), Ms.Kratae, and their former student. They guided us so well and we cannot thank them enough for their excellent hospitality! To make this trip even more purposeful and meaningful, we were assigned a task to make a picture story incorporated with some essential terminology in the CLOA component of the course.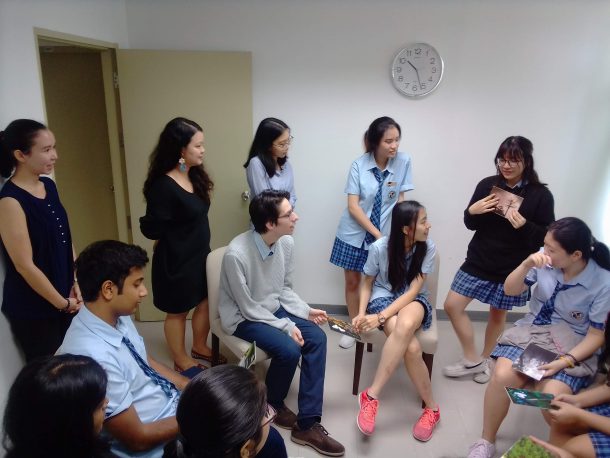 Additionally, as soon as we entered we had set a schedule to follow throughout the entire course of time spent at the university, which is something I would absolutely recommend as it kept everything under control and organized. At 7:50 AM, we gathered as a Psych class to review the group tasks for questions and clarity which was helpful as we were aware of the trip schedule and expectations. Around 8:15, we departed from the room and took the BTS to National Stadium and from there, walked to Chulalongkorn. Around 9:00 AM, we met Mr. Karin in the Psychology Department, where he provided us with copious information about the university's entire Faculty of Psychology and even admission requirements through a series of videos and presentation. He guided us through the presentation so well and was very open to any sort of questions and concerns. While having discussions, I could see how passionate he was about psychology and attentive towards his visitors.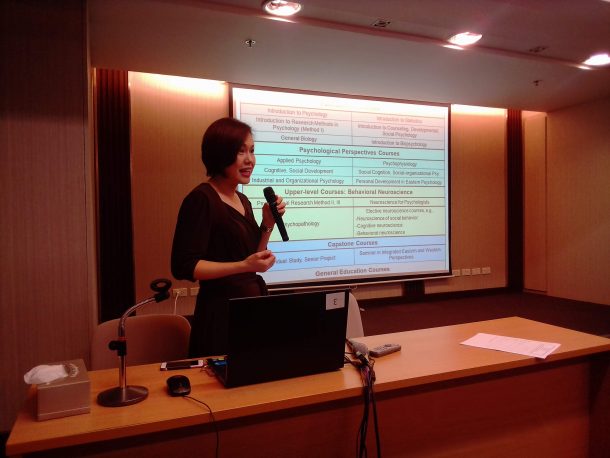 Next, their former student conducted a muscle therapy activity, where she made the room quite relaxed, and shut the lights off to create a serene atmosphere. She read through some simple steps where we relax our muscles and did mild exercises while sitting. I can't elaborate enough on how relieved and lightened I felt afterwards. At 10:30, we were told to grab light snacks such as burgers and pies along with water bottles for refreshments offered by the university and this really made everyone even more energized and interested in the presentation. Learning becomes even more enjoyable when you see it in visual form. This was probably the best part of the whole trip. We got to visit actual therapy practice rooms and learn how psychologists treat their clients. We saw different rooms such as the individual and group therapy room, camera system, and how the curtains are kept shut in the individual therapy room in order to prevent discomfort by the patient. We also received the opportunity to play with some picture cards, have group therapy, and also see how the whole camera/video system in the rooms works. It was something new as none of us has seen something like this before and it was an amazing experience. At 12:00 PM, we had lunch on the Chula campus and then from there, we engaged in our activity and around 2:00 we were dismissed by our chaperones.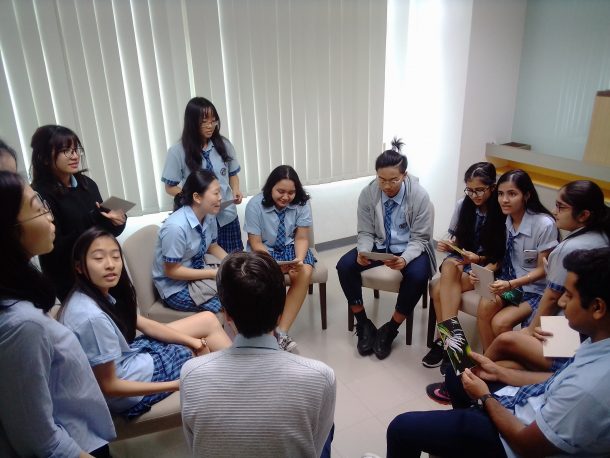 In a nutshell, the entire trip was free of cost (excluding the travelling and lunch expenses), informative, productive, and worth missing a day off school! Despite the instructors at Chula not being the most fluent in English, they did their best to answer all of the questions and yet display a warm-friendly attitude towards us. The presentation showed how "Over the years, the faculty has prepared graduates and produced research in the fields of counselling psychology, social psychology, and developmental psychology, and has established a collaborated undergraduate program with the University of Queensland." In my opinion, I loved the trip and would absolutely recommend anyone who is interested to go in order to gain a better understanding of Psychology.
Written By: Khushi Shah, Class of 2020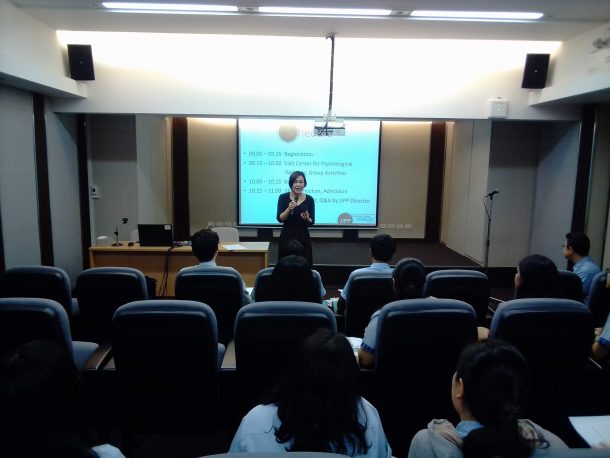 Other Student Reflections
"It was an amazing chance to see university life and to gain more knowledge about their university and their psychology program. I think going to this trip allowed everyone to be more open minded about their university choices and what they want to do in their futures." – Nanthisha, Class of 2020
"Not only did we get to learn more about the program and the university in general, we also got to experience how it feels to be a counselling psychologist. This trip increased my passion to learn psychology and understand the human mind. When I start applying to universities next year, I will definitely keep Chulalongkorn University in mind. It is no surprise that this university is one of Thailand's top university. This trip allowed me to see what Chulalongkorn University has to offer, and it allowed me to become a psychologist for a day." – Ananta, Class of 2020
"As a new student I found this trip is really interesting by how the school sets up a field trip to university and specifies in a certain faculty, where this shows that the school cares about students' preparation for college which is the best thing a high school should do. This field trip benefited a lot of students who are planning on attending in faculty of psychology or JIPP at Chulalongkorn University, because during the field trip the students got to watch a presentation by a college student, who is currently studying in faculty of psychology in master degree, and learned how is it like if studying in faculty of psychology at Chulalongkorn University." – JayJeen, Class of 2020
"I felt that the trip was quite significant and meaningful. This is because I gained a lot of insight of the college itself and the programs that are available for the students." – Malika, Class of 2020
"It is always useful to hear the perspective from the person, who is a student at the university, as this individual experiences the campus life and dynamics on daily basis; which one of the reasons why I found this lecture very informative… We have also observed the real-life environment that counseling takes place, which leads into the fact that, now, I have a clear picture in my mind, of how exactly counseling occurs. This is very helpful because going into the field of psychology is one of the things that I consider for my future career." – Anton, Class of 2020