EARCOS Teacher's Conference 2019: experiencing the vanguard of teaching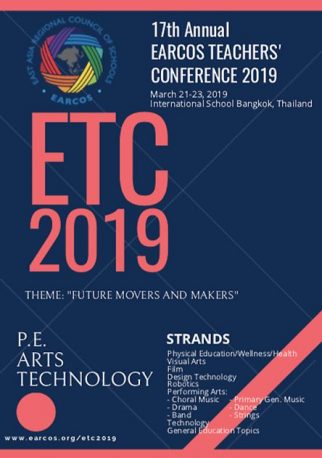 March 21st-22nd-23rd, 2019, a huge event took place at the ISB school in Bangkok, Thailand: the 17th annual teacher's conference held by EARCOS (the East Asia Regional Council Of Schools), an organization of 165 member schools in East Asia which have a total of more than 138,212 pre-K to 12th grade students. This conference is held annually in a different city of East Asia and deals different education strands which rotate every year. This year physical education, visual arts and technology were the subjects involved. So, the teachers from all the three campuses those who teach these subjects attended this wonderful conference.
Here is the experience of one teacher who attended EARCOS 2019. As a PE teacher at Wells International School (Bang Na Campus), Giacomo Pezzo participated in this 3 days event, attending 10 workshops sessions held by PE teachers and specialists who dealt various aspects of PE teaching at school.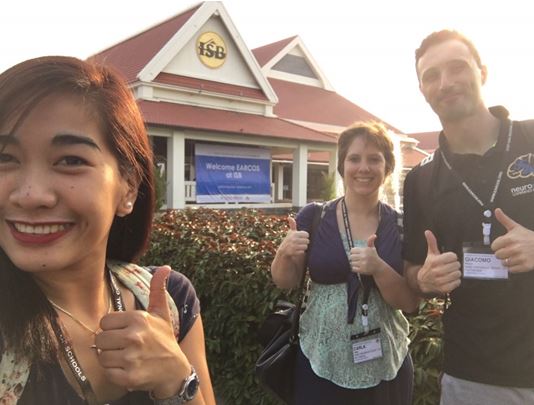 Giacomo Pezzo with Jasie Santos (Dance Teacher) and Carla Visser (Art Teacher), representatives of Wells International School – Bang Na Campus
The first day started with the opening speech by Greg Dale, professor, Director of the Sport Psychology and Leadership Programs at Duke University (North Carolina, USA), who truly motivated all who were present to wonder about their own teaching motivation. After that the sessions program continued with the participation in two workshops: the first one, by the title "Next level Fun & Fitness in PhysED", held by Jarrod Robinson (founder and director of Connected PE, Australia), presented a variety of smartphone applications which can be used to create new games for PE classes and doing so establish an interaction between technology and physical activity. The second one, "A Growth Mind-Set to Assess the Development of Physical Literacy", by Ted Temertzoglou (Vice President of Teacher/Student Success at Thompson Educational Publishing) and his wife Carolyn Temertzoglou (PE Teacher at the Ontario Institute for Studies in Education at the University of Toronto), who talked about how physical literacy is fundamental in order to develop strong bases for physical activity and how offering to students a large variety of activities can give to teachers more assessment elements.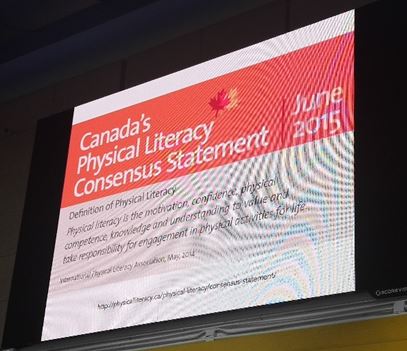 Physical Literacy program in Canada
On the second day Dr. Peter Boonshaft (author of the critically acclaimed best-selling books "Teaching Music with Passion," "Teaching Music with Purpose," and "Teaching Music with Promise," as well as his first book for teachers of other disciplines, "Teaching with Passion, Purpose and Promise", currently Professor of Music at Hofstra University) had the opening speech, entertaining all delegates with stories from his career about passion and dedication to teaching. Then other four sessions have been attend: "Next level feedback in PE classroom" (Jarrod Robinson) which was focused on how to assess students' movements by using slow motion smartphone apps and make them realize about their mistakes in real time; "Introduction to a non-traditional sport: kin ball" (Michael Xhauflair), which presented how this super fun activity is played and what kind of games can be done at school based on its rules and its typical huge balls, including a lot of muscular, cardio, coordination and strategy activities for students; "Teaching young swimmers and being safe in the water" (Sandy Elder-Alex Miladinovski), a workshop on how to teach the bases of swimming, build a strong water confidence and offer to students a 'step by step' swimming technique progression; "Physical literacy: a gateway to school and community well being" (Ted and Carolyn Temertzoglou), where was proved by scientific data the positive impact of physical activity on students brain and body functions, its benefits for the whole school community and how this could build strong bases for a better society.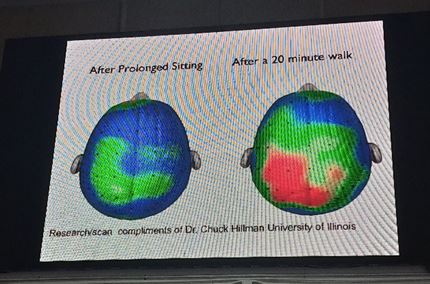 Benefits of physical activities for brain activation
Day three was open by Dr. Marilyn Stewart (Emerita Professor of Art Education at Kutztown University of Pennsylvania, author of Thinking through Aesthetics, and Editor of the Art Education in Practice series published by Davis Publications). The next session hosted some special guests: four former New Zealand All Blacks rugby team held a workshop on how to motivate young athletes and cultivate a positive team culture… who better than them!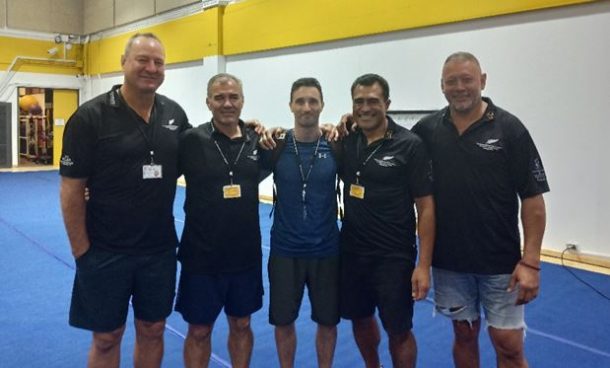 Former All Blacks
The conference ended with the last session "Fundamental principles of a high quality, well-planned, inclusive HPE program" (Carolyn Temertzoglou) regarding how  to include various skills which can make PE activities being meaningful experiences for student's psychophysical growth, such as communication, interaction with classmates and developing a positive  learning attitude.
Written by Giacomo Pezzo