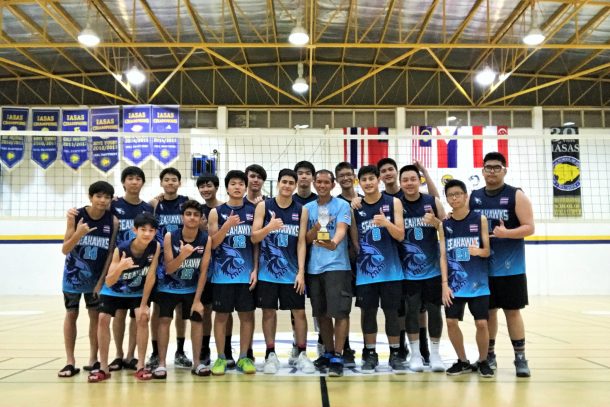 The varsity boys volleyball team came just short of winning their fourth consecutive tournament title, falling to an adult league volleyball club, LAYDVC, in the championship game of the Twin Towers Invitational Volleyball Tournament. The tournament, hosted by the International School of Kuala Lumpur (ISKL) in Malaysia, was the first overseas tournament ever for the young Seahawks.
In pool play, Wells went undefeated, beating the Eagles of Dalat International School from Penang, 2-0 (25-19, 25-9), the host Panthers of ISKL, 2-1 (20-25, 25-20, 15-10), and LAYDVC, 2-0 (26-25, 25-15).
In the championship game, pitting the #1 and #2 pool teams against each other, the adult team came out strong, cruising to a win in the first set, 20-25. Not giving up, the younger Seahawks stormed back in the second set, winning easily, 25-13. However, experience proved to be the winning edge in the tiebreaker set, with the adult team winning a tight, seesaw battle, 15-13, for the championship.
Despite the loss and an overall record of 17-1, Wells boys remain undefeated against other international schools with a record of 16-0. To date, our wins were against teams from across the country (Bangkok, Chiang Mai, Chonburi) and Southeast Asia (Vietnam, Singapore, and Malaysia).
JUNIOR VARSITY "A" TEAM WIN IN EXHIBITION GAMES
Also in action in Kuala Lumpur were the younger members of the varsity team, aka Wells Junior Varsity "A" team. Facing a much taller ISKL JV team, our Jr. Seahawks were not intimidated, winning a best-of-5 match, 3-1 (25-18, 25-21, 19-25, 25-16). In day 2, our boys played the Dalat team, winning 2-1 (25-17, 22-25, 15-11). However, on a day 3 rematch, Wells fell to Dalat, 1-2 (25-23, 16-25, 12-15).
MAHALO!
Huge thanks go out to our hosts at International School of Kuala Lumpur, especially Athletic Director Mr. Ryan Naughton who organized the tournament and arranged our ground transportation while we were in Malaysia. Also, thanks go out to Mr. Wai Tak (Willie) Kwok for arranging our airport to hotel transfer when we arrived in Kuala Lumpur.
UPCOMING TOURNAMENTS
Both our boys and girls will be playing in the AISAA League Championship Tournaments will be held in mid-October with the girls playing at Concordian International School on October 20, and the boys at Wells on October 19.