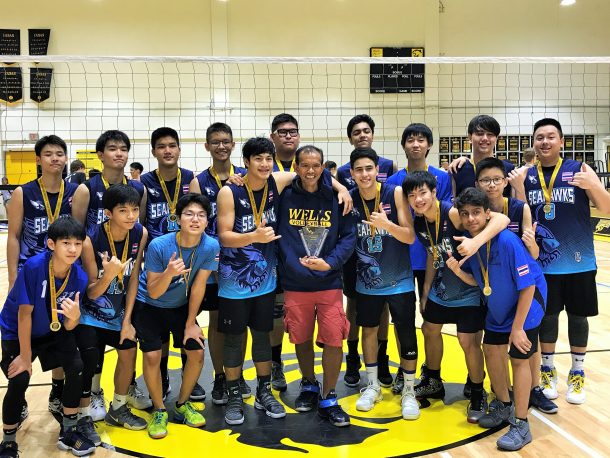 The varsity boys volleyball made it a clean sweep, winning the big one: the two-day, 8-team ISB Invitational Volleyball Tournament held this weekend.
In pool play, Wells immediately faced host ISB, winning in split sets, 2-1 (16-25, 25-21, 15-12). After easily putting away NIST, 2-0 (25-12, 25-10), our boys clinched the top seed in pool play by beating Saigon South International School from Vietnam, 2-1 (21-25, 25-15, 15-6). In the semi-finals, Wells faced the top volleyball team in Northern Thailand, Grace International School Chiang Mai. After being pushed to the limit in game one, the boys were able to put it away in two games, winning 2-0 (27-25, 25-20).
In the championship game, our Seahawks faced the big boys from United World College East (UWCE) in Singapore, winners of their pool, in a battle of two undefeated teams. In two very tight games, Wells was able to avoid a tie-breaker set, winning 2-0 (27-26, 25-20) to clinch the championship.
With this championship, along with the Ruamrudee Phoenix Invitational in early September, and the NIST Invitational last weekend, the Seahawks achieved a rare "Triple Crown", winning all three of the major Bangkok international school tournaments this year.
VARSITY GIRLS WIN THIRD PLACE
Also in action on this weekend at the ISB tournament were the girls, hoping to ride on the momentum following their bronze-medal performance at NIST last weekend.
In the first day, the Lady Seahawks came out strong, going undefeated with impressive wins against two foreign schools, beating International School of Ho Chi Minh from Vietnam, 2-0, and UWCE from Singapore, 2-0. However, our girls played two tough matches in a row against the big BISAC schools, losing to NIST, 2-0, in the final game of pool play, and host ISB, 2-0, in the semi-final match of the championship bracket.
In the bronze-medal match, Wells faced the Eagles from International Community School (ICS) who they lost to earlier in the first match of the season. However, clearly a new and improved team, the girls easily dismantled the Lady Eagles in straight sets, 2-0, to bring home their second trophy in as many weeks.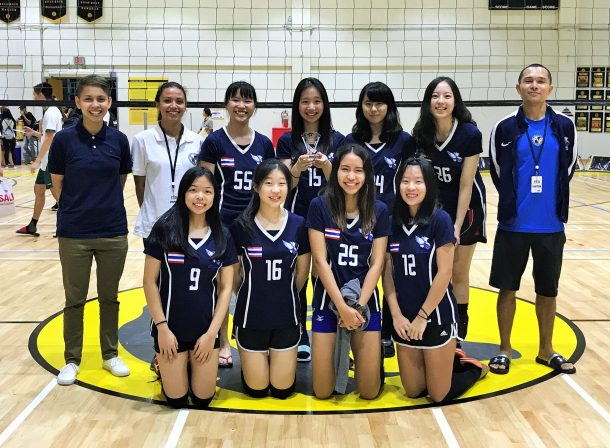 UPCOMING TOURNAMENTS
The boys will also be traveling to Kuala Lumpur, Malaysia, to play in the Twin Towers Classic from October 5-7. Finally, the AISAA League Championship Tournaments will be held in mid-October with the girls playing at Concordian International School on October 20, and the boys at Wells on October 19.