Come and celebrate the wonder, joy, and diversity of the month of December with us!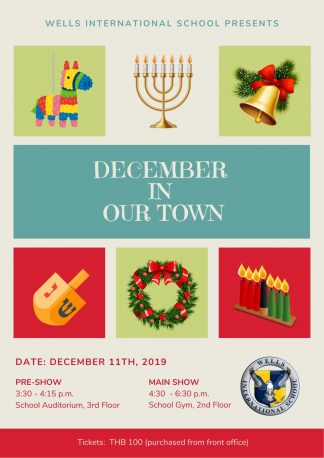 Winter Show Title: December in Our Town
Date:  Wednesday, December 11th
Location: Wells International School, On Nut Campus
"While collecting canned goods for a food bank, a group of young people discovers the holiday traditions from a wide variety of other cultures. They grow to understand each other better and learn that peace, joy, and hope are holiday traditions that can be shared by all. Through their experiences, the students find that the true spirit of the season is not in our differences but in our similarities".  
Please click here for The Winter Show Poster.
Time: Pre-show   3:30 – 4:15 p.m. @ School Auditorium (3/F)
          Main show 4:30 – 6:30 p.m. @ School Gym (2/F)
Tickets will be sold at 100 baht, these can be purchased from the front office from November 25th onward. If you buy it on the day of the show, it will be 150 baht.
If you have any questions, please feel free to contact our Performing Arts department – Ms. Kan at kan@wells-school.com.