Dear High School Community:
It has been a wonderful start to a new school year!
Please see below for updates, upcoming events, and past activities in our Wells Community from the start of school up to now.
Important Announcements
Notification of Absence, Tardiness or Early Leave
To promote a culture of care and safety, if your child will be late or absent from school, we need to be informed as early as possible (preferably before 8 a.m.) through a phone call to 063-351-6511 / 02-730-3366 or an email to our office staff (see below). Also, if your child needs to leave school early, we ask you to send an email, as well as receive a call from us to confirm that the email came from you, before we allow your child to leave the school outside of school hours. Here are the emails of the office staff who typically deal with high school attendance issues.
Community & Parent Relations Officer, Ms. Ann: ann@wells-school.com
School Registrar, Ms. Liza: liza@wells-school.com
Events/Extracurricular Activities
Our Club and Team Offerings at Wells:
On Friday, August 25th, the students held a club and committee fair, where all of our new and existing clubs were showcased and new members were encouraged to sign up for clubs of interest.
Existing Clubs & Committees
New Club Offerings

Greenhawks
MUN
World Scholar's Cup
Public Speaking/Debate
PAWS
Love Ocean Wildlife
Wells Smile Club
Photography Club
High School Robotics
High School Student Council
Student Relations
Community Engagement

Business Club
Computer Science Club
Korean Club
Lend-a-Hand Club
Ted-Ed Club
History Bee & Bowl
K-9 Wells
Fitness Club
American Sign Language Club
Reflections: Summer Science Program in Hawaii
Read some insightful reflections from our students who attended the Summer Science Program in Hawaii here.
Friday, August 11th, 2017: Mother's Day Ceremony
The Wells community celebrated the 85th birthday of Her Majesty the Queen Sirikit, Queen Consort of His Majesty the Late King Bhumibol Adulyadej. In addition to providing a time for everyone to reflect on how much they appreciate their own mothers, many students were able to show respect to their mothers as you see in the photos below.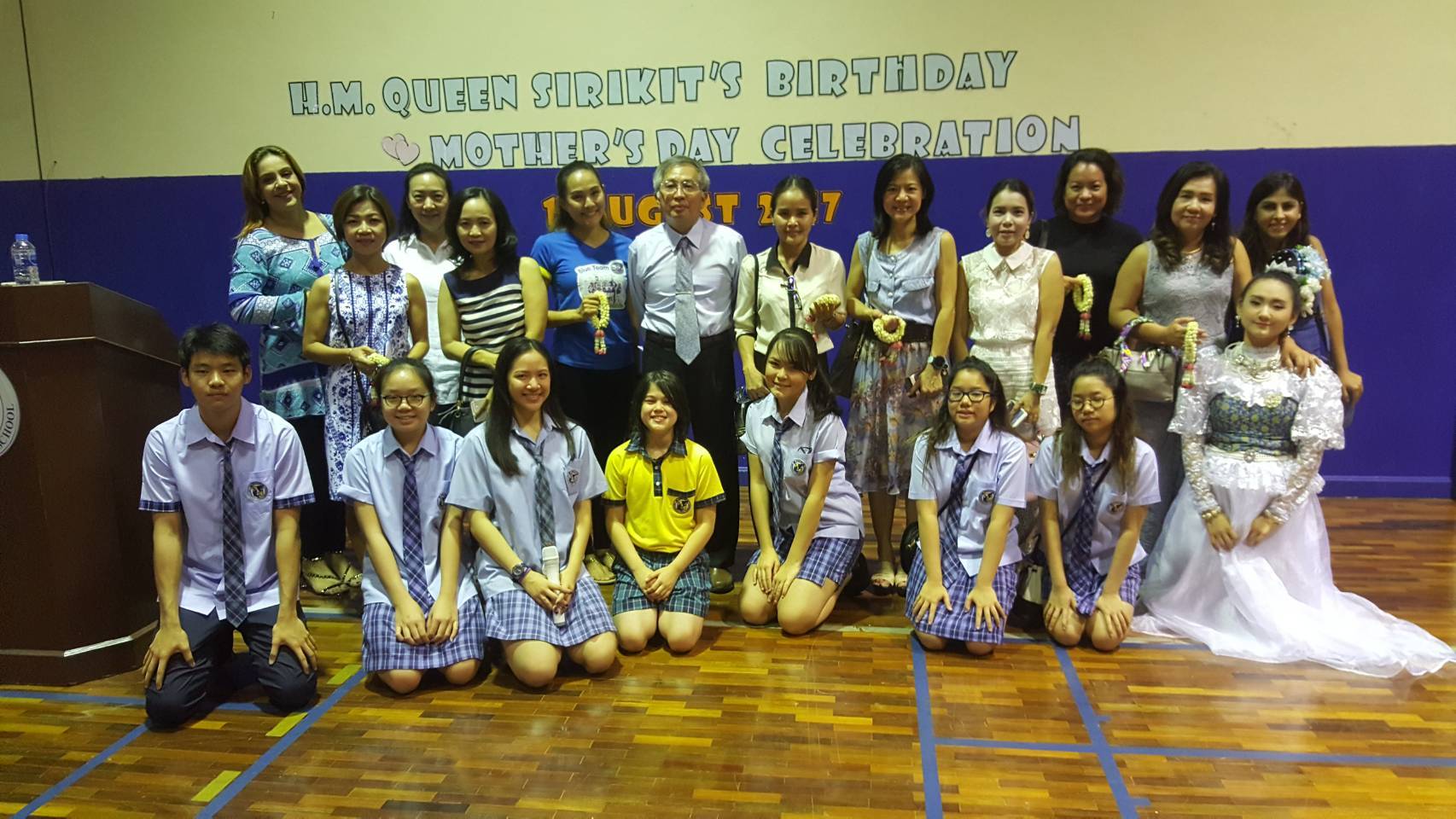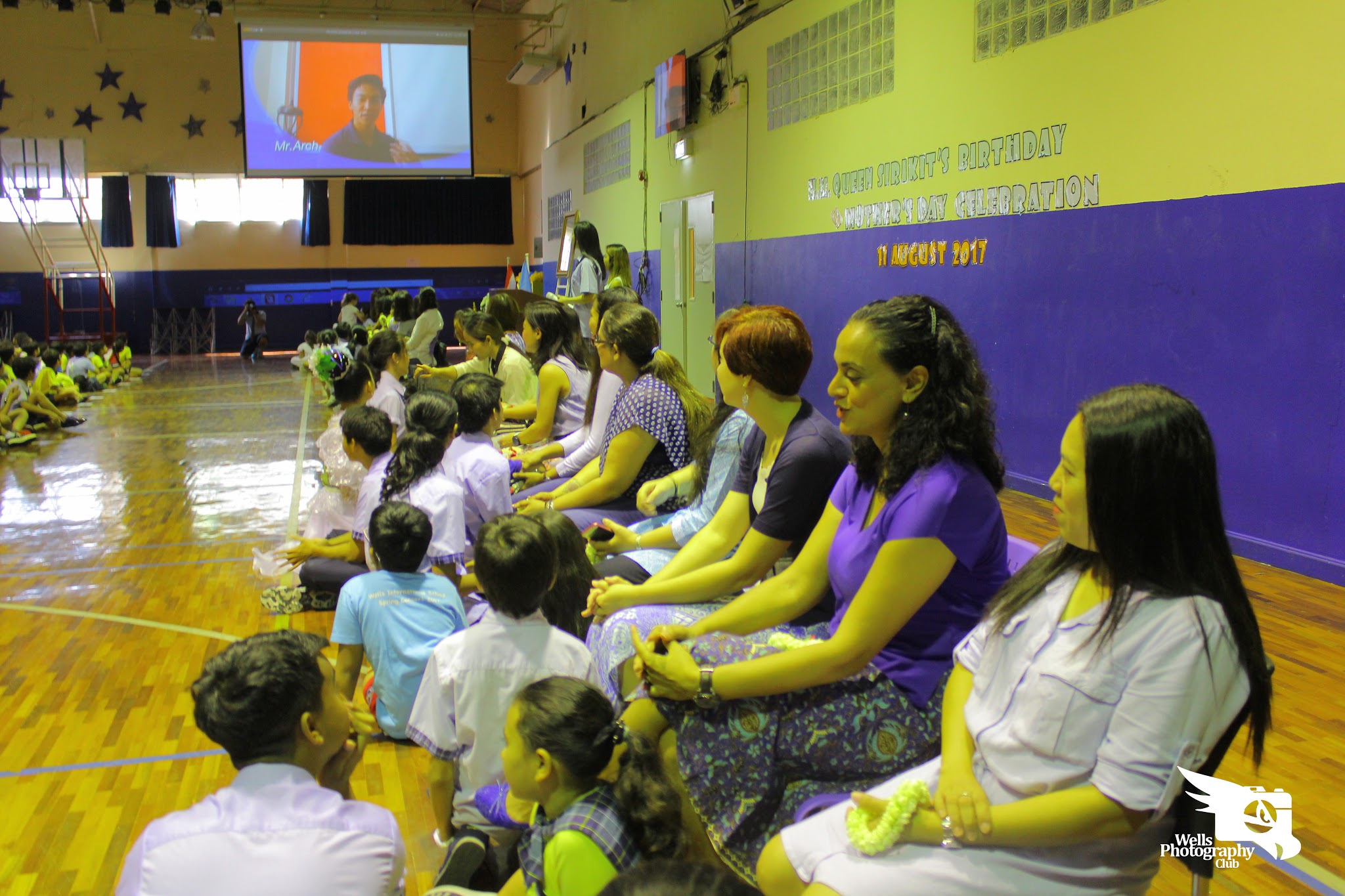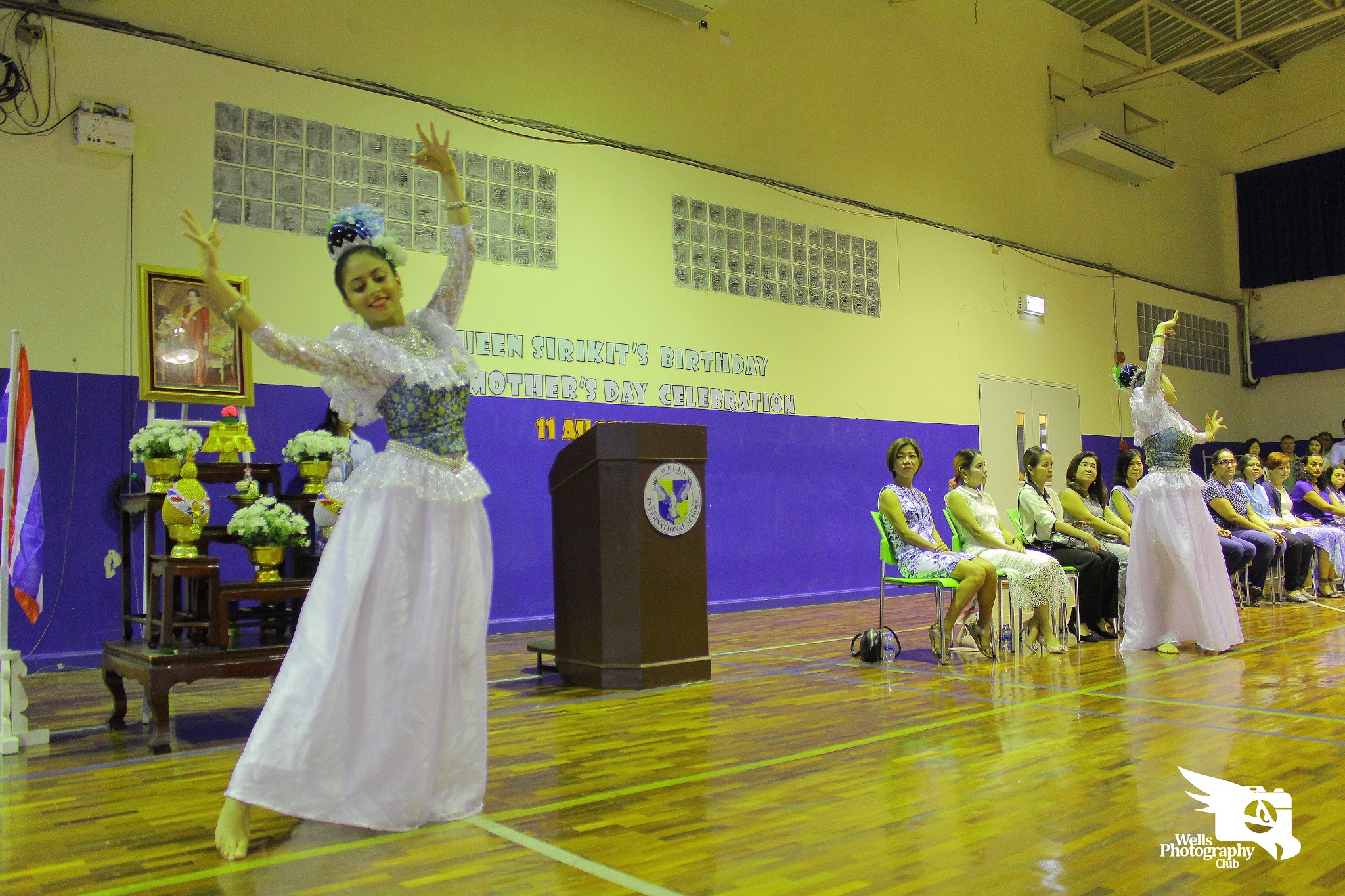 HS Parent Orientation: Friday, August 25th, 2017
We would like to thank all parents who were able to come to our parent orientation. For those who were unable to make it, we emailed you the PowerPoint presentation that was used during that time. Here is a link if you would like to see it again.
A Peek into a Classroom: Grade 10 Physics Class (September 4th, 2017)
Ms. Patricia Rath had her grade 10 Physics class do a lab where they dropped tennis balls and ping-pong balls off of the third floor into the Coliseum to calculate the acceleration due to gravity. The students enjoyed this hands-on learning experience.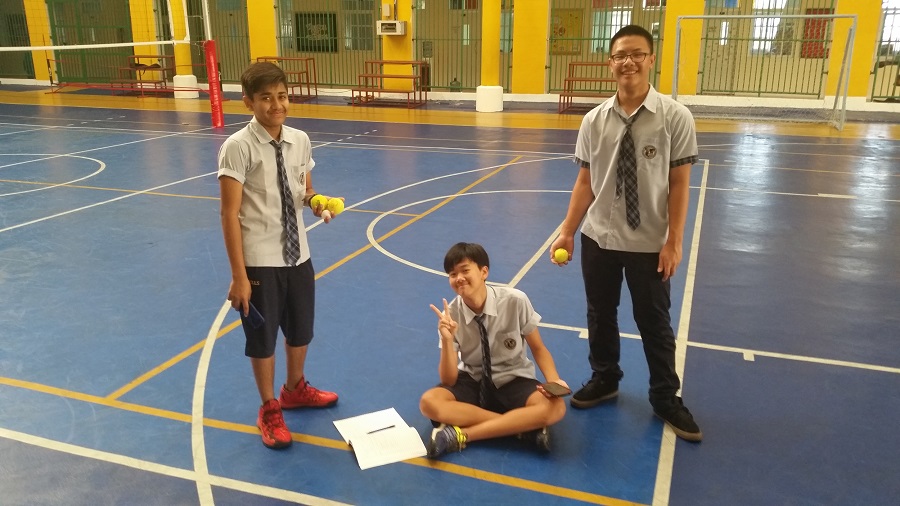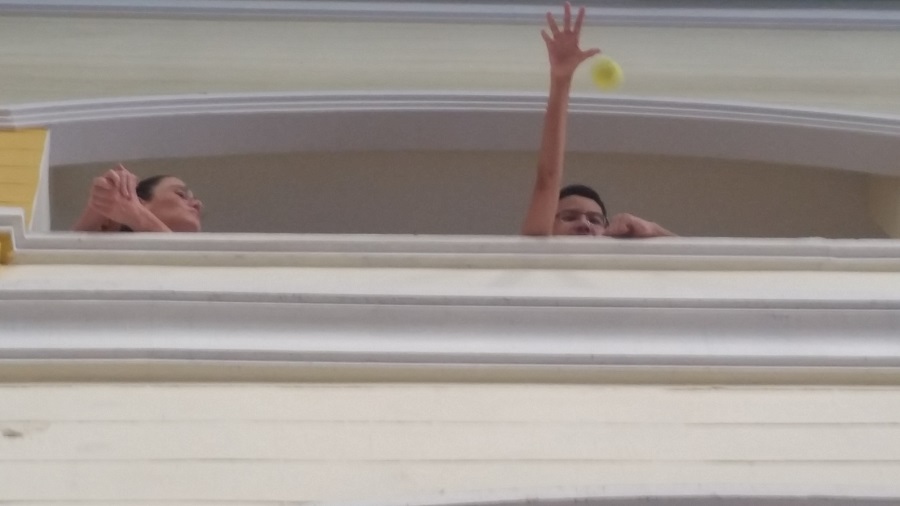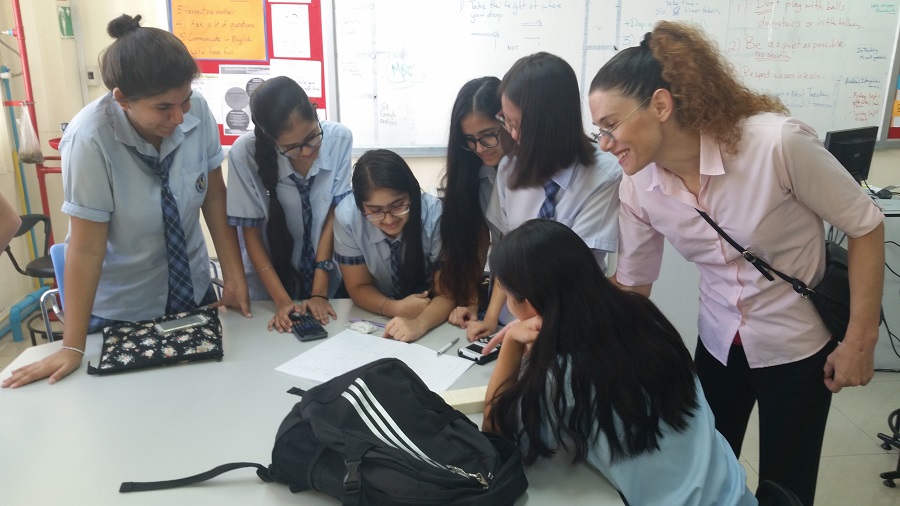 Athletics
Our Athletic Teams:
Varsity Volleyball Boys and Girls Teams
Varsity Football Boys and Girls Teams
Varsity Basketball Boys and Girls Teams
Varsity Swimming Boys and Girls Teams
Varsity Badminton Boys and Girls Teams
Varsity Tennis Players
Varsity Golf Players
Varsity Table Tennis Players
Notable Athletic Events
Varsity Boys Volleyball: Champions of the Phoenix Invitational Tournament (September 10th, 2017)
Facing the top teams in Bangkok in their first tournament of the season, the varsity boys volleyball team were the champions of the Ruamrudee International School Phoenix Friendly Invitational Tournament on Sunday, September 10th.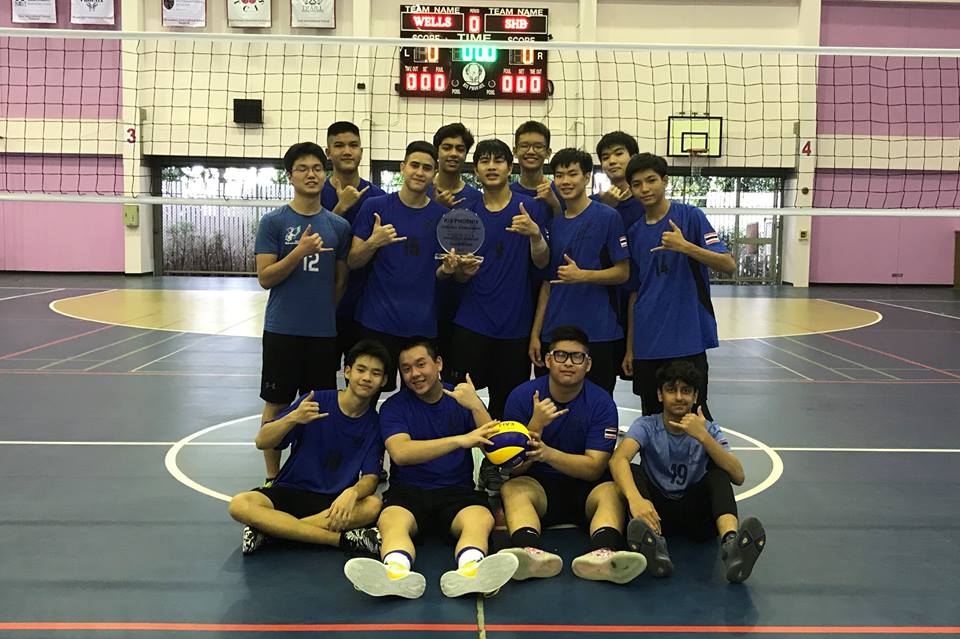 Academic Program Updates
IB Diploma Programme
Class of 2018 — Welcome back to Year 2 of the IB Diploma Programme at WIS. Our students have had a chance to reflect on their first year of the program over the summer, and have come back refreshed and ready to take on the challenges for this final year. Please note the following:
CAS Portfolios for all of our HS students should be in progress. Ask your students to see where they are in their progress and see the requirements on the websites (linked below). Celebrate their achievements so far!
Each student is at different stages of their Extended Essay, often referred to as the EE. For this graduating class, the IB has introduced a new element, which includes a Research Reflection Space, where the students can reflect on their learning process throughout the essay. They will be working closely with their chosen supervisor throughout the semester for reflection and progress check up, and will require encouragement and support from home to ensure  they can meet their own deadlines.
Important deadlines for the assessments in each of your students classes can be found in the IB Timeline and Deadlines for the Class of 2018. Please work with your students to write down these deadlines and support them as the deadlines approach. These deadlines are firm.  If they are unable to manage the deadlines, they must arrange a meeting with their teacher and the IB Coordinator to reschedule at least one week in advance of the deadline.
May Examination Session 2018 registration:
-Opened Friday, September 15th, 2017. Students were given the Registration Form and a IB Candidate Consent Form to take home and complete with parents/guardians.
-Closes Monday, October 16th, 2017.Students must return the Registration Form and IB Candidate Consent Form by this date to be registered for the exams.  No exceptions will be made.  Payment for the examination session must be confirmed by November 15th, 2017.
Class of 2019 — On behalf of our entire IB teaching team, welcome to Year 1 of the IB Diploma Programme at WIS. In the last month, students have settled into their respective IB courses and are getting to know their teachers and the new requirements of the IB DP.  Students attended an introduction to CAS session, and some are excited and already starting to plan out their CAS projects. Their first CAS interviews will be taking place in September, where they will share their personal action plans and self-development goals. In the coming months, students will begin the process for their Extended Essay or EE. Student support teams have been established in our first class meeting where students were encouraged to work in these teams to identify their own strengths and their peer's strengths throughout this first semester as well as developing their IB Learner Profile and the corresponding ESLRs.
We look forward to working with you and your students to guide them through the challenges, encourage them to learn from failures, and celebrate achievements throughout the course of this rigorous program. For more information and details, please visit our various websites and links below.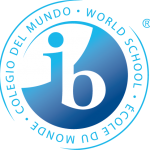 IB Programme Overview
IB Program Introduction Slideshow
Introducing AP Capstone Program at Wells!
What does it take to prepare for success in universities in the US?  Wells is excited to introduce this new program offered by the AP to give high-performing students an opportunity to explore their interests, culminating in the form of a high-level research paper. Students learn to explore the interdisciplinary nature of issues of their choice and develop key skills that will prepare them for university. This is available for the Class of 2020 and beyond. For details of the program, flip through our slideshow presentation: AP Capstone at Wells
Upcoming Events (First Semester, 2017)
Saturday, September 23rd: NIST Invitational Tournament
Wednesday, September 27th: Yale-NSU University Presentation (Everyone welcome–please register here.)
September 29-30: 16-team ISB Panther Invitational
October 5-7: Boys varsity volleyball at Twin Towers Classic, Kuala Lumpur, Malaysia
Friday, October 6th: Parent Teacher Conferences (PTCs)
Friday, October 13th: School Holiday, to honor Rama XI Memorial Day
Mid-October: AISAA League Championship Tournaments
October Friday, October 21st – Sunday, October 29th: Midterm Break (Classes resume on October 30th, 2017)
For more updates, stay connected by following us on our website, Facebook or Twitter!