EARCOS Weekend Workshop:
Compass Education Level 1 Certification Workshop
September 10-11, 2016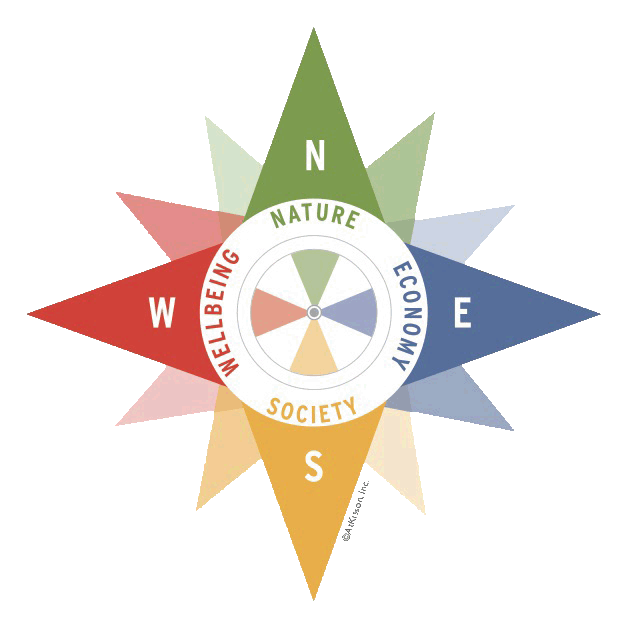 Workshop Details
Compass Education Level 1 Practitioner Certification Workshop – Thinking, Learning and Acting for a Flourishing and Sustainable World
Trainers

: Cindy Chen and David Gammill
Who should attend

: Teachers and program leaders who want to integrate sustainability education and systems thinking into their teaching practice. It would also be of value to curriculum leaders and principals interested in understanding what the practical application of sustainability education looks like.
When

: Saturday, 10 and Sunday, 11 September 2016
Where

: Wells International School (On Nut Campus), Bangkok, Thailand (

link

to map and direction)
Workshop Overview
Oftentimes when it comes to approaching global issues, service, and sustainability, students and teachers are left with a nagging sense of gloom-and-doom, the feeling that somehow we are all responsible for destroying the planet but with no real way of understanding the complexity of the situation or, more importantly, what to do about it.
In this course, educators will be empowered with a suite of tools developed by sustainability consultant Alan AtKisson to help both educators and students think critically and creatively about the bigger picture, gain a deeper understanding of sustainability, and understand our own contributions to the world. These tools and systems thinking methods will enable educators to help students develop the knowledge, skills and dispositions necessary to participate in a complex and interdependent world. The course will be a mix of theory and practice; educators will see examples of these tools in practice and be invited to innovate and strengthen their lessons, units, and programs them.
This course is Level 1 of Compass Education's 2-level educator training program.
This is what participants who have attended level 1 have said:
"I used to think that the concept of sustainability was a bit of a pipe dream – now I believe it is achievable."
"I used to think that sustainability was just about nature and the environment and so I am so excited to find it is connected to all the other compass points and allows a deeper level of thinking in education and beyond to deal with complex issues through systems thinking."
"I used to think that sustainability was all about the compass but now I know that it is just one tool to frame thinking and can be used along with the other thinking tools.  I also didn't think that systems thinking would be so difficult, but now I know there are a lot of factors to consider.  I will need to practice this!"
"I used to think that being sustainable involved sacrifice, of toning down greed, but now i see that companies can be persuaded to be more sustainable by seeing the change as an opportunity."
Enduring understanding as a result of attending this workshop:
Systems thinking enables educators to help their students develop the knowledge, skills and dispositions necessary to participate in a complex and interdependent world.
Understand the nexus of sustainability and education

Be able to use systems thinking tools with students

Be able to integrate systems thinking into unit and lesson planning
Timetable Overview
Day 1: Saturday, 10 September
08:30-10:00 – Session 1: Module 1 – Why are we here?
10:00-10:20 – Coffee Break
10:20-12:00 – Session 2: Module 2 – Practical introduction and use of the Compass
12:00-12:45 – Lunch Break
12:45-14:30 – Session 3: Module 3 – Compass theory and application
14:30-14:45 – Coffee Break
14:45-16:30 – Session 4: Module 3 continued – Compass theory and application
Day 2: Sunday, 11 September
08:30-10:00 – Session 5:  Module 4 – Systems Thinking – Iceberg
10:00-10:20 – Coffee Break
10:20-12:00 – Session 6: Module 5 – Deepening Systems Thinking – Loops and Leverage
12:00-12:45 – Lunch Break
12:45-15:00 – Session 7: Module 6 – Strategies Moving Forward
About Cindy Chen
Growing up in a multicultural environment, Cindy thrives to cultivate a global approach in education flourishing young leaders of the world. Cindy's involvement with Compass Education started as a passionate teacher who wished to expand her horizons and tools towards systems thinking in 2013. Ever since, sustainability has been her core value, practices, and now a trainer with Compass Education, a non-profit network equipping schools for a sustainable future.





Cindy has been a learner and educator at Wells International School (On Nut) serving as the High School Associate Principal dedicating to co-curricular and community engagement, CAS Coordinator and DP Environmental Systems and Societies teacher. She works with various young leaders of the generation exploring possibilities, passions, and taking action in their local community through classroom, experiential, and service learning.





Cindy is very blessed to be involved in a very supportive and collaborative network amongst international schools in Thailand. She is an active advisor for the Bangkok ServICE Network, which inspires, connects and empowers students and educators in the Bangkok-Pattaya-Phuket regions. In 2016, she co-organized and hosted the 5th annual conference. With education and sustainability in mind, Cindy humbly began her learning journey as a WASC visiting committee member traveling around the world with an open-mind, supporting educators and schools towards transformations.
Workshop Registration
LINK to Level 1 Registration Form
After each registration form is submitted, please make payment according to the payment instructions below. If an invoice is required to process a payment, please contact Cindy at

cindy@wells.ac.th

. Registration is not confirmed until payment has been received and confirmation of payment has been been sent. The registration fee includes daily lunches, morning/afternoon snacks and refreshments during breaks.
Payment Instructions
After you have completed the online registration, please make a payment of US $55 – EARCOS Members (US$100 for Non EARCOS Members) before the 10th of September 2016. All transfer fees (home and host) associated with payment are the sole responsibility of the attendee (which means you may need to ask your bank what is the transfer fees of home and host country)
Bank Transfer Details
Amount: US $55 – EARCOS Members (US$100 for Non EARCOS Members)
Bank Name: KrungThai Bank
Branch: Sukhumvit 47
Account Name: Wells International School – On Nut Campus
Account #: 048-0-02959-8 (Savings Account)
SWIFT Code: KRTHTHBK
After the payment is made, please scan the receipt and email it to  

cindy@wells.ac.th

. Include in your email subject line "Compass Education – Level 1". After the scanned copy of the receipt has been received, you will receive confirmation of your registration for the Compass Education Level 1.
*Course fees include certificate of attendance, workshop materials, a course pack, snacks and lunch. There is a 5% discount if you are registering five or more participants. There is a 10% discount for ten participants or more.
LINK to flyer for more details