CAS at Home Challenge
Over the Songkran break, our Grade 11 & 12 students were given a CAS at Home Challenge. Since they were all at home practicing social distancing during this Covid-19 quarantine time, this would have typically posed a challenge for them in terms of engaging in CAS. But, instead, our students seized opportunities to engage in creativity, activity and service! As this is the mindset we hope to cultivate in all of our students, this is proof that our students aim to do their part as global citizens — even from the comfort of their own homes! 
Students were also able to find the silver linings in this situation, whether it was quality time spent with family or exploring interests they never had the time to during the school year. Read about their experiences from some of their shared reflections.
CREATIVITY
Having extra time and less resources than usual sparked a lot of great creativity, or time the students finally had to pursue some passion projects. It seems like a favorite creative outlet for our students was baking and cooking!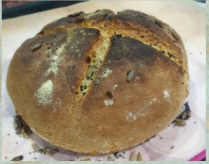 Bread making by Poorvi (Class of 2021)
"I have attempted baking some desserts, such as Banana Muffins and Cheesecakes…I realized that it helps me to relieve the stress that I've got from doing the IB" -Lucy (Class of 2020)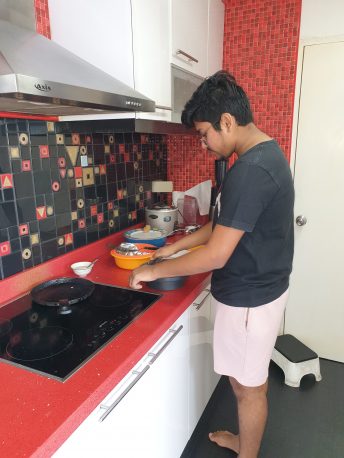 Mithil (Class of 2020) cooking traditional Indian food: roti and vegetables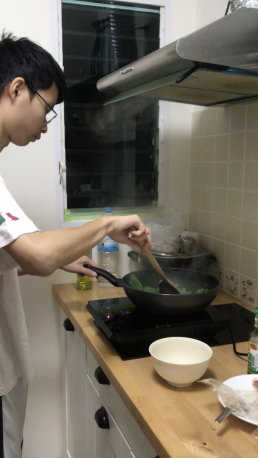 "Many might feel as if there are not many activities we can enjoy at home, yet a simple activity of cooking with our family can make us feel active. I believe that cooking food for ourselves and our family is an activity that all of us can enjoy together." -Kasin (Class of 2020)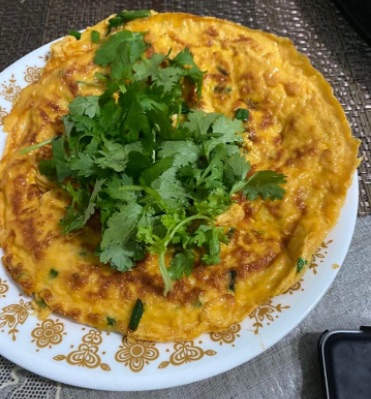 Insee's (Class of 2020) Thai omelette
"I tried to cook by myself based on recipes from the internet. I think I am enjoying this moment as it feels like I'm the genuine one who's participating in social distancing. By learning something new that people haven't tried before helps them to get rid of boredom during quarantine." -Kevin (Class of 2020)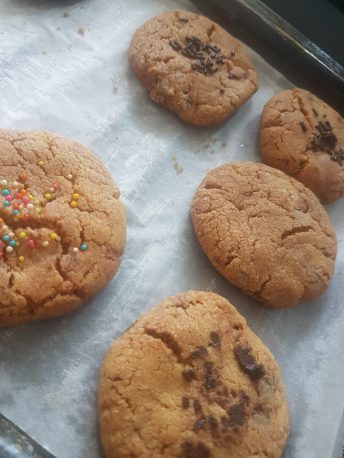 "I was bored at home so I decided to learn how to cook and since I love cookies I decided to bake them. This could be very important as when I go to university I can make them by myself." -Mokshil (Class of 2002)
Many students also perfected the art of the recent internet trend, dalgona coffee!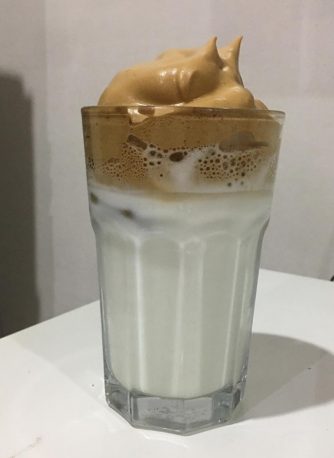 Dalgona coffee, made by Peter (Class of 2021)
Links to some of the culinary creations by our newly discovered master chefs
"I've been seeing this time as a great way to do the things that I've always wanted to do, but never got the time to do. I have learnt that retrying something only makes you better and when you keep trying, it becomes even better…I learnt how to find the positive in everything and be grateful for everything we get, because there's always something positive that can be done from the worst times." -Muskan (Class of 2021) Check out her cooking in action here!
Here, you can see Ling's (Class of 2020) awesome cooking here, which she learned from her aunt and grandmother!
Pooja Shah's "quarantine cooking" (Class of 2021)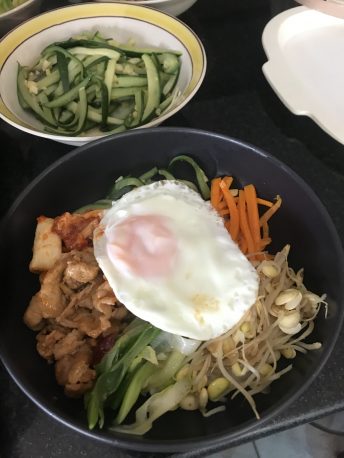 Check out Pam's (Class of 2021) different cuisines on her CAS portfolio!
TY (Class of 2020) also did some cooking and baking. Here are some of her culinary creations! 
Some students used their hands and the resources at their disposal to be creative…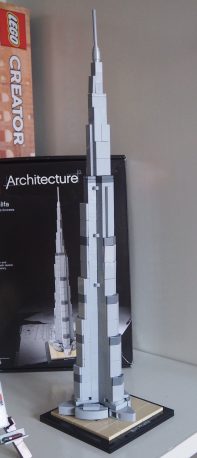 Khushi's (Class of 2021) Lego creations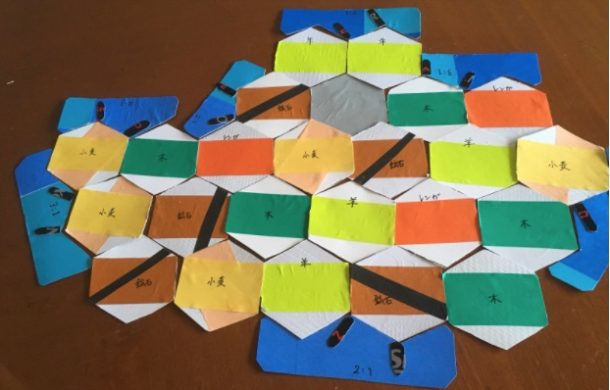 "I created the board game "catan" by using cardboard and Origami. Catan is a very famous game to play, but I didn't have it. So, I just created to enjoy time at home with my little brother and families." -Haruna (Class of 2020)
Others refined their computer skills and created through software editing, digital design, 3D modeling, making music, etc. Others used technology to connect with others or to learn new skills. Here are some examples of our talented students and their products or learning from their computers:
Pach (Class of 2020) created digital art videos. In this video, she used handwritten lyrics and music to create a nice aesthetic.
Software editing by Deep (Class of 2021)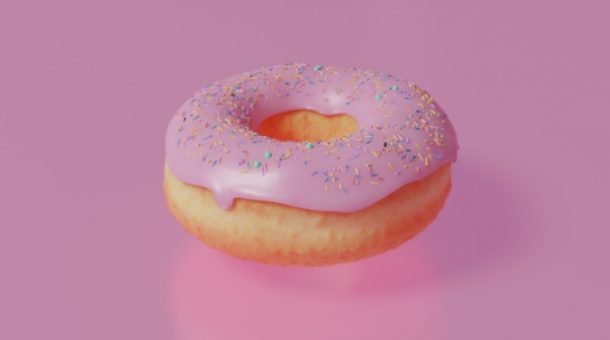 "I spent time self-learning 3D modeling, it is not easy to learn but it gives me quality time and I am happy that I can learn a new skill during quarantine than waste my time. It gives me a sense of accomplishment when I figure something out and figure out my mistakes." -Bowen (Class of 2021)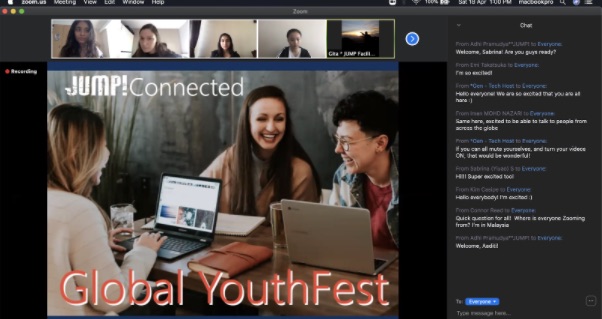 "I got the chance to participate in an amazing and extremely enriching conference hosted by the JUMP! Foundation. We all got a chance to discuss various insightful topics such as self value, leadership, effective global citizenship, etc. It allowed me to spend my time being productive and inspiring myself, but also make new friends who are like minded while staying at home!" -Soumili (Class of 2021)
"One thing that I was doing was creating digital art and making Tik Tok videos. I found it was an interesting way of spending my time, as well as boosting my creativity. I enjoy coming up with things that are unique, interesting, and creative. Such activities help me to focus on that and overcome the challenges that I encounter by sharpening my problem-solving skills." -Anton (Class of 2020)

"Soon, I will be entering university (be it virtual or actual) in hopefully the US. US universities are relatively expensive for internationals like me. Therefore, I see stock trading as a secondary source of income that I can use on my expenses in university so I can help my parents pay off my education. I hope that by 2026, I am able to cover the entire cost of education my parents spend on me. That is the goal." -Yash (Class of 2020)
We also have some movie critics in the mix!
Us (Class of 2020) writing movie articles to educate the community
Rika's Ghibli movie reviews (Class of 2020)
Ari's movie review page (Class of 2020)
Students have been spending quality time with family and finding ways to be creative with family members:
"Quarantine does have a positive impact on people allowing them not only to make them do things but engage with themselves and spend more time with themselves and their family. Having to spend more time with my family, talking about our lives, playing indoor games made us really bond and made me happy at the same time." -Gurleen (Class of 2021)
"The first thing that comes to mind which I have done is have more time for my family. I have spent much more time talking and playing board games with them. I don't usually do that so I would consider it as a positive contribution to myself and my family." -Akhrin (Class of 2020)
ACTIVITY
Wells students made sure sure to take good care of not only their minds, but their bodies as well…
"I decided to take this crisis as an opportunity to get back on the workouts I've missed as an IB Diploma student…I committed this time of period to regain my healthy habit of sparing time for workouts on a regular basis as I have relatively more free time these days." -Su (Class of 2020)
"I did 30 minutes of cardio every single day for 2-weeks by following a video from The Body Project + Core Workout + 20 minutes of dance. I have also been learning new dance choreographies and styles every single day and hope to make it a daily routine ritual." -Khushi (Class of 2020)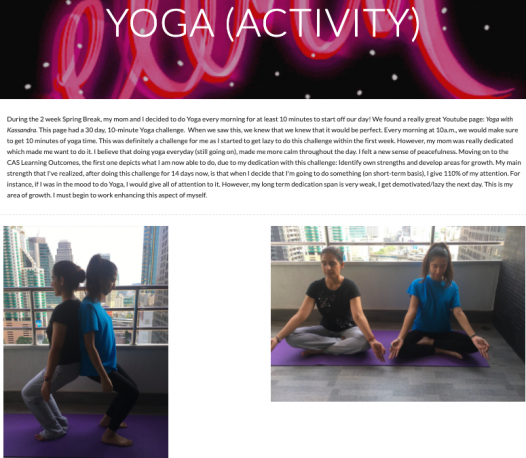 Gia (Class of 2021) practicing yoga with her mom
"Running around outside the park to keep my body healthy and muscle moving everyday. Of course, we won't just run without a mask, and we had to keep 1m away from other runners like us at a social distance." -Gordon (Class of 2021)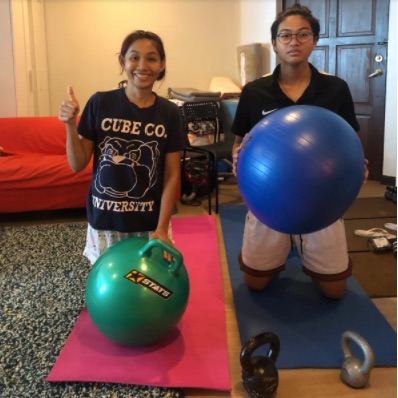 "I decided to do some activities at home so that I can also stay in shape and be fit. Once a week, as a family we go out and do fitness training. I am the coach of the fitness training, in this training we have different sections of exercising techniques." -Toni (Class of 2020)
Sapal's (Class of 2020) work out from home during quarantine. 
"I chose to walk up the stairs in the condo. I went up all the stairs from the 4th floor (lowest) to 25th floor (highest) and took the elevator down. Even if I want to give up in the middle of the workout time, I am not able to open the door except for the 4th floor and 25th floor. Therefore, I could force myself to go up all the stairs to the 25th floor. I repeated this three times a day for 7 days, and I'm planning to continue this activity!" -Annie (Class of 2020)
SERVICE
Some students were creative in thinking about how they could be helpful to others from a safe distance…
"I made more than 100 face shields to distribute to health care workers and essential employees." -Renesa (Class of 2021)
"I was engaged in many different activities very recently including volunteering in the Be My Eyes movement…I had a lot of fun with the rest of my family finding time to participate in a variety of activities, mostly cooking as we stayed home the entire break." -Peter (Class of 2021) LINK to portfolio 
"I found a website (freerice.com), which donates 10 grains of rice for every question you get right. I donated 1000 grains today." -Ananta (Class of 2020)
"I am currently involved in inter school collaboration Online Panel discussion about COVID-19's effect on the environment. A group of students from different schools are together to bring people with keen interest in learning more about sustainability, in both micro (household) and macro perspective on how COVID19 might have changed the way sustainability issues are viewed moving forward through a series of webinars." -Ruby (Class of 2020)