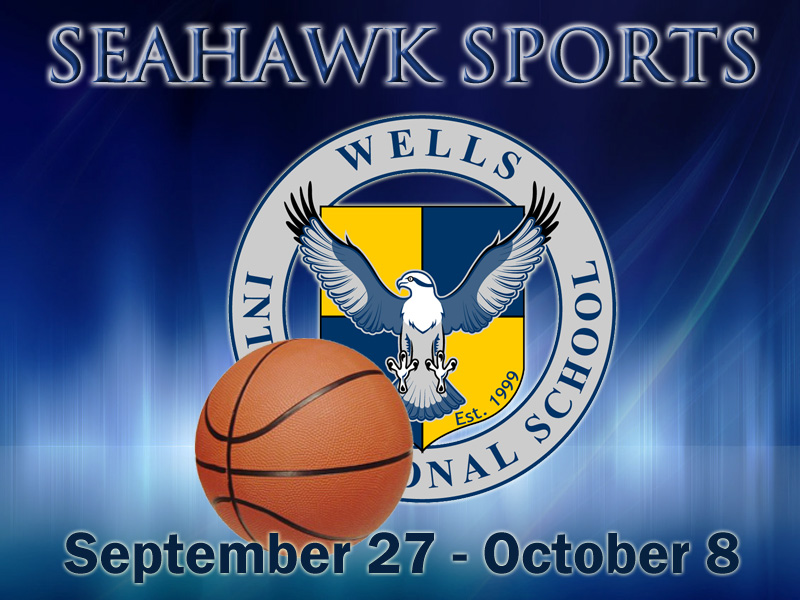 A busy two weeks of Seahawk Sports began with the Senior Girls continuing to have their way with fellow TISAC rivals, followed by the debut of two of last year's defending TISAC champions: the U15 Girls and U15 Boys teams.
On Wednesday, September 29, the Senior Girls welcomed the Lady Lions from Bangkok Christian International School (BCIS) for Wells' first home game of the year. The game started out as a defensive battle with neither team able to capitalize on the other's turnovers. However, as the game progressed, the Lady Seahawks were able to pull away and eventually rout their visitors, 25-9.
The debuts of both defending championship teams took place at TISAC-rival Bangkok Prep on Thursday afternoon, September 30. Despite the expected hostile environment both teams were able to walk away with blowout wins.
Action continued for both U15 teams as the boys and girls traveled to Khao Yai for the St. Stephen's Khao Yai Basketball Invitational from Friday, October 1, through Sunday, October 3. Facing several "big name" BISAC schools, our boys captured the tournament championship by going 5-1 overall, with a thrilling 24-22 overtime victory of the Harrow Lions in the final game. Our girls also were relatively successful, placing 3rd, with losses only to BISAC powerhouses TCIS and Shrewsbury.
TISAC play continued on Wednesday, October 6, with our Senior Boys team blowing out Bangkok Prep 46-20 to remain undefeated at 3-0. The blowouts continued with strong wins for our Senior Girls team versus Keerapat, 42-22, and our Under 13 Boys team blowing out St. Andrew's 35-9. The lone loss for this period was from our Under 13 Girls team, which lost a hard-fought defensive game to St. Andrew's, 18-12.
The upcoming week will be dominated by volleyball games, with the JV Boys Volleyball Team taking on NIST in their first home game in the new Wells Colosseum. NIST visits the campus hoping to avenge an earlier loss to Wells on the Falcon's home court. The boys continue play on Thursday when they travel to Ruamrudee in Minburi. The JV Girls Volleyball Team will also see some action on Tuesday against ASB in Bangna. In basketball, both the U13 Boys and U13 Girls will be traveling to Bangkok Prep on Thursday.
GO SEAHAWKS!!!