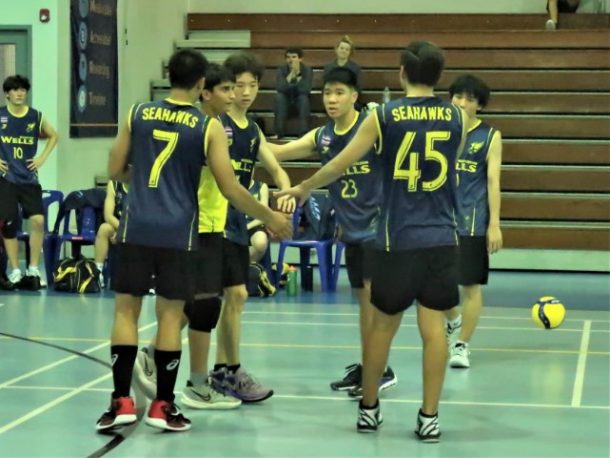 As the country's education systems strive to move forward in a post-pandemic world, Wells athletes have been waiting in eager anticipation for the return of inter-school competition. This week, our Seahawk Volleyball teams excitedly opened their 2022-2023 campaigns with matches scheduled against some very familiar rivals.
VARSITY SEASON OPENER AGAINST TRADITIONAL RIVAL ICS
On Thursday, September 8, both our boys and girls varsity volleyball teams took the "quick" drive to International Community School Bangkok (ICS) to start off their season. A young team with no senior leaders, our boys started out visibly nervous, dropping their first set to a much more confident ICS Eagles team. However, that early setback was enough to light a fire under everyone as the Seahawks dominated sets 2 and 3. After giving our novice players some game time in set 4 allowing ICS to tie it up at 2 sets apiece, our starting team put it away in the tiebreaker set to win the match at 3-2 (16-25, 25-16, 25-16, 23-25, 15-5).
Our varsity girls, also made up of mostly young players, showed clear improvement over previous years and pushed the much taller ICS team to a tiebreaker set as well. However, after a series of back-and-forth rallies, our Lady Seahawks came up just short, losing the tiebreaker, 15-17, and the match, 2-3.
JV TEAMS GO UNDEFEATED AGAINST POWERHOUSE SCHOOLS ISB AND NIST
On the very next day, Friday, September 9, it was our junior varsity volleyball teams opening their seasons at a tri-school meet hosted by International School Bangkok (ISB) in Nonthaburi. Being very young with all players being Grade 9 and below, the teams entered the meet anxious and untested. However, after the dust settled, both teams came out victorious and, for now, undefeated.
On the boys side of the gym, our Seahawks had to come from behind in set 1 before dominating set 2, first winning against the ISB Panthers, 2-0 (25-21, 25-17). Their second match was very similar, starting slow and clawing their way back in set 1 before dominating in set 2, defeating the NIST International School Falcons, 2-0 (25-23, 25-16).
The girls matches were much closer with the Lady Seahawks prevailing in a tiebreaker to defeat host ISB, 2-1. And in the second match against NIST, our girls were down 21-23 in set 2 before surging at the end with 4 straight points to win the set 25-23, and the match, 2-0.
INTRODUCING THE TEAMS
VARSITY BOYS – Sena Nakamura (Gr 11, Setter/Outside Hitter), Asahi Fukuura (Gr 11, Setter/Middle Blocker), Bijay Pun (Gr 11, OH), Kenshin Ushikubo (Gr 11, OH), Haruto Kagei (Gr 11, MB), Japan Kittayachaiyawat (Gr 11, OH), Pema Thinlay (Gr 11, OH), Rafael Jung (Gr 10, OH), Rishi Sharma (Gr 10, Libero)
VARSITY GIRLS – Azra Omur (Gr 12, MB/OH), Tingting Hemmondharop (Gr 12, MB), Bianca Castillo (Gr 11, Libero), Ally Gu (Gr 10, OH), Preme Mongkolprasert (Gr 10, OH), Jimin An (Gr 10, OH), Alia Abdelwahab (Gr 9, Setter), Rishika Bhattacharya (Gr 8, Setter)
JV BOYS – Alan Khorana (Gr 9, Setter/OH), Sharan Khorana (Gr 9, OH/MB), Leo Rhie (Gr 9, OH), Veeranan Luthra (Gr 9, Libero/OH), Aoi Wakahara (Gr 9, Setter/OH), Omar Abdelwahab (Gr 8, Setter), Don Charoenvisal (Gr 8, MB), Devansh Barnwal (Gr 8, OH), Vivan Jain (Gr 8, OH), Junyoung Moon (Gr 7, OH/MB), Jason Moon (Gr 6, Setter)
JV GIRLS – Alia Abdelwahab (Gr 9, Setter), Anne Fukuura (Gr 9, Libero/Setter), Alisa Kupari (Gr 9, OH/MB), Hayeon Kim (Gr 9, OH), Mayu Suenaga (Gr 9, OH), Yebin Sung (Gr 9, Libero), Fehmiya Syeda (Gr 9, OH), Manao Yasaki (Gr 9, OH), Hrishika Bhattacharya (Gr 8, Setter), Aom Vetchayanvivat (Gr 8, OH/Setter), Fleur Varntjes (Gr 8, OH)