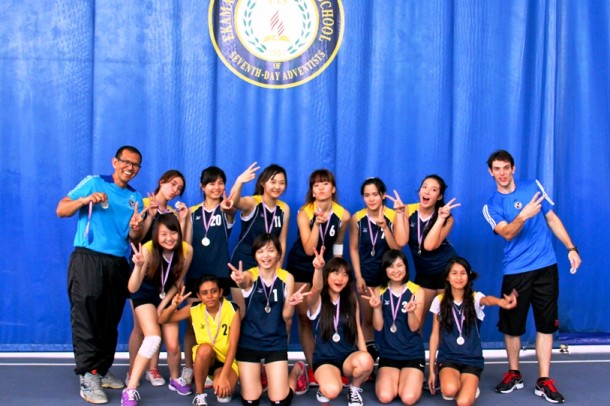 View more pictures of the tournament in our Facebook album.
Ekamai – For the second time this month, the Wells girls volleyball program challenged the bigger schools of BISAC, facing Ruamrudee, Harrow, and host EIS at the 2012 Ekamai International School Varsity Girls Volleyball Invitational Tournament on Sunday. Coming off a gold medal performance by the junior varsity team just two weeks prior, a very young varsity team nearly accomplished the improbable. The Lady Seahawks powered their way through pool play, defeating Ekamai Varsity 2-0 (25-12, 25-23), Ekamai JV 2-1 (25-23, 17-25, 15-12), and Ruamrudee 2-0 (25-23, 25-23), but dropping a match against Harrow 0-2 (20-25, 16-25). Nonetheless, based on winning records and head-to-head tiebreakers, Wells ended up at the top after pool play, earning them a spot in the championship match against pool-play runner-up Ruamrudee.
In the championship game, however, the Seahawks' youth and inexperience became apparent as the confident and experienced Phoenix from Ruamrudee took advantage of nervous miscues and free balls to win in straight sets, 2-0 (25-19, 25-22), giving RIS the gold and leaving Wells with the silver.
With the Lady Seahawk varsity team made up largely of members of the under 15 and junior varsity teams, the future is certainly looking bright for Wells' volleyball program. A member of TISAC, the Seahawks have been competing regularly with the larger schools outside of the conference, as no other team in TISAC currently has a formal volleyball program. The school hopes to change this as it plans to host, on a trial basis, the first TISAC volleyball tournament later in the school year.
Go Seahawks!
2012 Ekamai International School Varsity Volleyball Invitational Tournament
Participating Schools
Varsity Girls –Ruamrudee, Ekamai, Ekamai JV, Harrow, Wells
Pool-Play Results
Wells Varsity def. Ekamai Varsity, 2-0 (25-12, 25-23)
Harrow Varsity def. Wells Varsity, 2-0 (25-20, 25-16)
Wells Varsity def. Ekamai JV, 3-1 (25-23, 17-25, 15-12)
Wells Varsity def. Ruamrudee Varsity, 2-0 (25-23, 25-23)
Pool Play Ranking:

1st – Wells (3-1, head-to-head tiebreaker)
2nd – Ruamrudee (3-1)
3rd – Ekamai Varsity (2-2, head-to-head tiebreaker)
4th – Harrow (2-2)
5th – Ekamai JV (0-4)
Championship Results
Bronze Medal Match

Harrow Varsity def. Ekamai Varsity, 3-1

Championship Match

Ruamrudee Varsity def. Wells Varsity, 2-0