Wells International Schools celebrates and promotes literacy in our young learners in "March Reading Month" every year. In order to kick off the event, we read the whole school book, "Rosie Run" that our students wrote collectively last year.  This year, we are currently writing another whole school book and hope to finish in the next few days. This is a great way for our young learners to cooperatively write a book!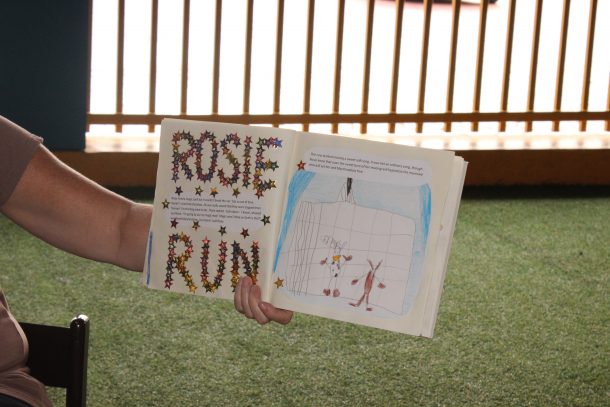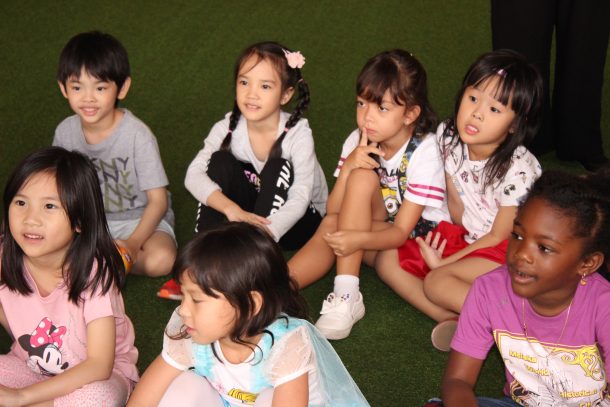 This year we had many exciting events at Wells International School including pajama day accompanied by our whole school read, book character dress up day, poem in your pocket, a poetry slam, guest readers in our classes, a school visit from Jose Ortega, the illustrator of "Leo's Pet Bug", reading buddies, and a reader's theater by On Nut high school students and Wells Bang Na's Parent Teacher Organization.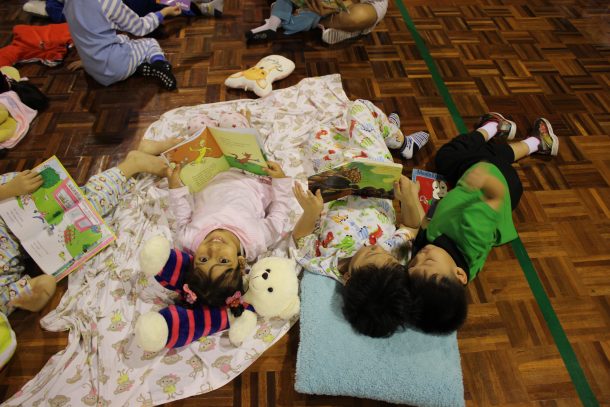 Pajama Day and Whole School Read
Our early years and primary students enjoyed our whole school read and pajama day. Our students snuggled up with their favorite blanket or stuffed animal in our primary gymnasium and read together.  The purpose of silent sustained reading is to promote reading by allowing children to read books they are interested in, increase vocabulary and comprehension, and improve writing skills.  Our primary students also engage in silent sustained reading in their classrooms.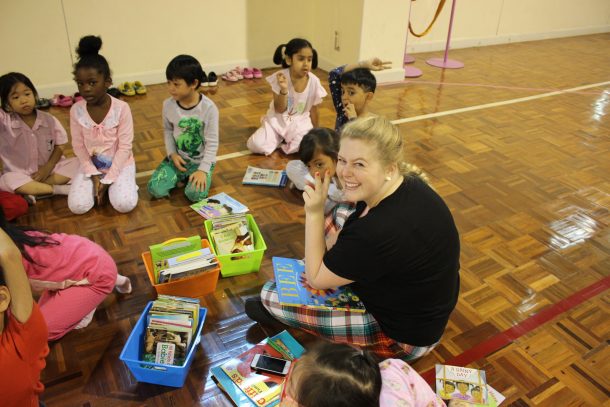 Book Character Dress Up Day
For book character dress up day, our students came to school as a book character of their choice.  The kids loved parading around school dressed as their favorite characters and our teachers and staff had a great time as well. The goal of character book day is to promote reading.  Research suggests that children who read for pleasure are more likely to be successful students.  Wells encourages our young learners to read for enjoyment every day!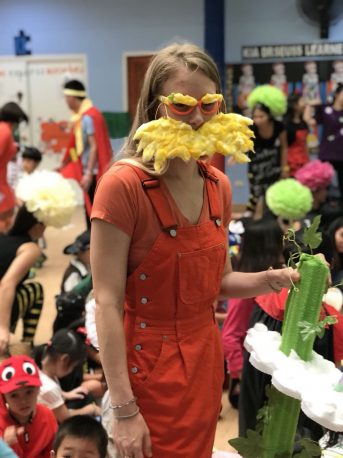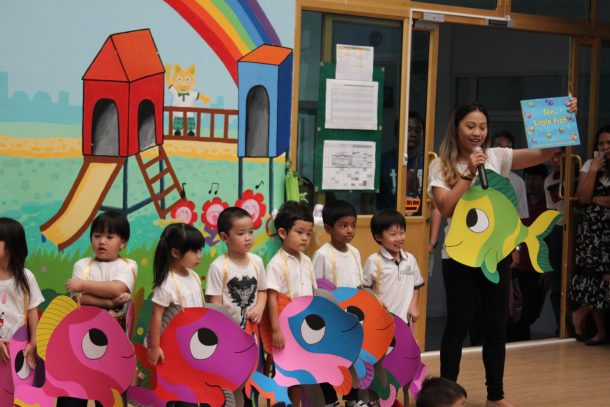 Poem in Your Pocket and Poetry Slam
Our students from kindergarten three to grade 3, we had a poetry writing session, shared our poems for our "poem in your pocket" activity and had a poetry slam.  Our students were able to get up in front of their friends and perform their poem. The kids did a wonderful job presenting their poems while building their presenting skills, stage presence and poise.  Poetry is a wonderful medium for our kids to write as it does not have prescribed rules and our young writers can be as creative.  Reading poetry is a great way for reluctant readers to build their confidence.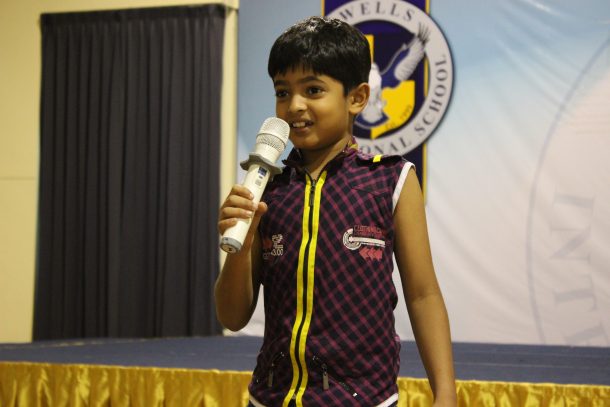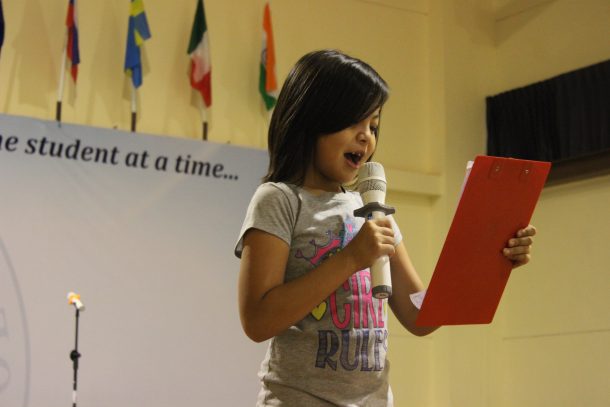 Visiting Illustrator
Mr. Jose Ortega, the illustrator of "Leo's Pet Bug" came to talk about his book with our students on March 26th. He spoke about the importance of reviewing and revising characters when illustrating a book. He walked our children through the process of creating a storyboard and gave our students time to create their own.  He also signed the book that he wrote for our students!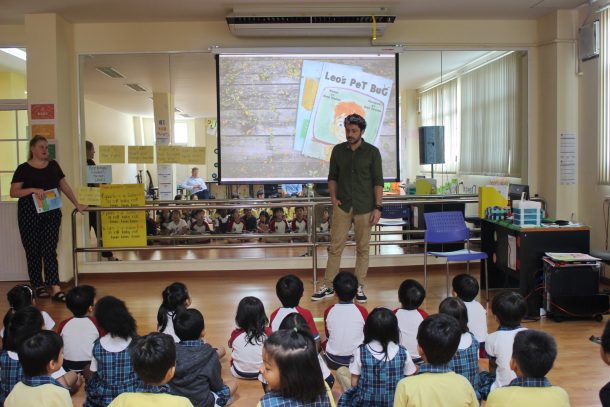 Read Alouds
In our early years classrooms, our teachers welcomed parents as guest readers in various languages in order for our kids to understand that books can be written in any language, not just English or Thai. Grade 2 and K1 classes joined together once a week for the month for our reading buddies program.  The grade 2 kids read to the younger children which helps to build oral reading fluency and once again, confidence. The younger kids enjoyed listening to our primary students and realized how good they will become at reading if they practice daily.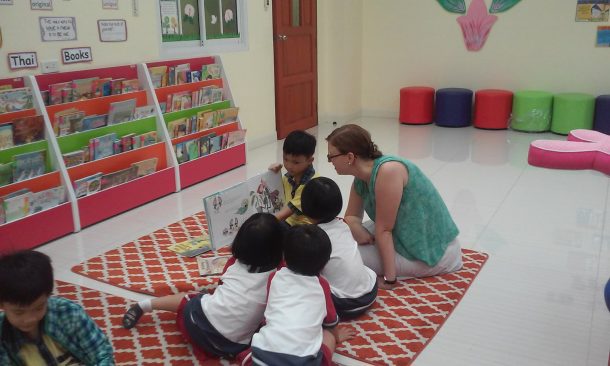 Reader's Theater
The culmination of our reading month was a reader's theater put on by Wells On Nut high school students and Wells Bang Na Parent Teacher Organization (PTO).  Our high school students showcased three books and did a wonderful job reading on stage. Our PTO took a different approach and recorded their voices and acted out the play. Wells Bang Na had no idea of the acting skills that our parents and our high school students possess! The reader's theaters were amazing and the perfect way to end our reading month!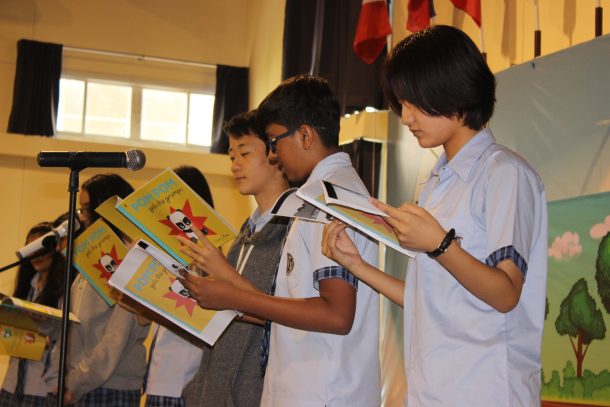 [wzslider]