又到了一年一度的中秋佳节,每年农历八月十五日,是中华民族的传统佳节——中秋节。2017 年的中秋节是在公历的十月四日,中秋节对于中华儿女来说是仅次于春节的第二大传统节日,至今已有千余年历史。中秋节这一天的月亮格外晶亮、圆润,被人们看成是合家团圆的象征,因此,又被人们叫做"团圆节"。一年月色最明夜,千里人心共赏时"、"海上生明月,天涯共此时"。天上明月,人间情怀,中秋明月这一特殊天象形成了独具中华民族特色的月亮节、团圆节。
2017 Mid-Autumn Festival falls on October 4th. Falling on the 15th day of the 8th month according to the Chinese lunar calendar, the Mid-Autumn Festival is the second grandest festival in China after the Chinese New Year. It takes its
name from the fact that it is always celebrated in the middle of the autumn season. The day is also known as the Moon Festival, as at that time of the year the moon is at its roundest and brightest.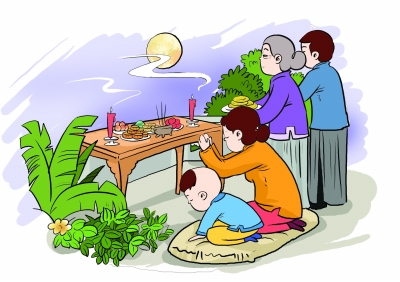 中秋节自古便有祭月、赏月、拜月、吃月饼、赏桂花、饮桂花酒、灯笼游行、舞龙舞狮等习俗,流传至今,经久不息。中秋节以月之圆兆人之团圆,为寄托思念故乡,思念亲人之情,祈盼丰收、幸福,成为丰富多彩、弥足珍贵的文化遗产。
On the festival day, family members gather to offer sacrifice to the moon, appreciate the bright full moon, eat moon cakes, and express strong yearnings toward family members and friends who live afar. In addition, there are some
other customs like playing lanterns, and dragon and lion dances in some regions.