Wells scholars capture three gold medals at 2011 World Scholar's Cup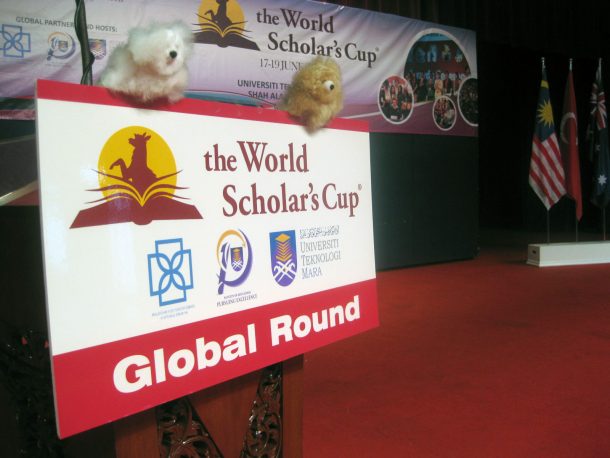 Kuala Lumpur, Malaysia – Just one year after their debut in Shanghai, Wells students stormed into this year's World Scholar's Cup competition, garnering a total of nine awards, including three individual gold medals.
Sophomore Tsai Chi "Cathy" Shang Kuan captured two gold medals – one in the "Science: Biotechnology" category and one in the "Modern Metropolis" category. Her well-rounded performance was also enough to earn her a spot amongst the WSC Top 20 Scholars, placing 15th overall in the Senior Division. This is Cathy's second year at the international competition, having qualified for the 2010 Global Round held in Shanghai last year.
Capturing Wells' other gold medal was fellow 10th grader Jung Mo "Jack" Lee. Coincidentally, Jack received his medal in the "Modern Metropolis" category – in a 1st place tie with Cathy. In the Scholar's Challenge, which tests students' combined knowledge across all WSC categories, Jack received his second medal, a bronze, with a 3rd place finish. Jack also ranked in the WSC Top 20 Scholars list, placing 17th overall in the Senior Division.
Ding Shun "Daryl" Ong, another sophomore, rounded off Wells' domination of the "Modern Metropolis" category, placing 2nd and bringing home a silver medal. Daryl also did well in the Scholar's Challenge with a 7th place finish.
Completing Wells' awards cache was the senior team of Jack Lee, along with freshmen Amira Lukens and Praat "Tan" Sukriket. The threesome's combined test scores were enough to capture 10th place in the WSC Team Scholar's Challenge.
Aside from the aforementioned students, representing Wells at the World Scholar's Cup were:
Junior Division – Lisa Brothers (Gr. 6), Muskaan Narula (Gr. 6), Anusha Shanishetti (Gr. 6), Asen Liu (Gr. 6), Peter Choi (Gr. 7), and Akhil Shanishetti (Gr. 8)
Senior Division – Bo-An Shang Kuan (Gr. 9), Harjas Anandsongvit (Gr. 10), Gautham Giri Naganathan (Gr. 10), and Chan Lee (Gr. 11)
Two other international schools from Thailand also received awards. St. Andrews International School and Concordian International School won one award apiece.
Each year teams around the world compete in various events at national and regional rounds to qualify and prepare for the Global Round. Students write essays, debate on global issues, take an exhaustive exam on topics ranging from art to science, history and literature, all related to one central theme which varies from year to year. This year's theme focused on the theme "A World Transformed."
Founded in 2006, the World Scholar's Cup is not about specialization in any single subject; it is about teamwork, thinking on your feet, and having a willingness to learn new things. Participants have the opportunity not just to win both individual and team awards, but also to explore new subjects and skills not normally covered in school. And, most importantly, students are given the opportunity to experience new cultures and forge new contacts with other future leaders from around the world.
Over 750 students representing 30 countries qualified for the WSC Global Round, converging onto Kuala Lumpur, Malaysia, for the 4-day event. Thailand was well-represented with students from Wells International School, Concordian International School, St. Andrews International School, Anglo-Singapore International School and International Community School (ICS).