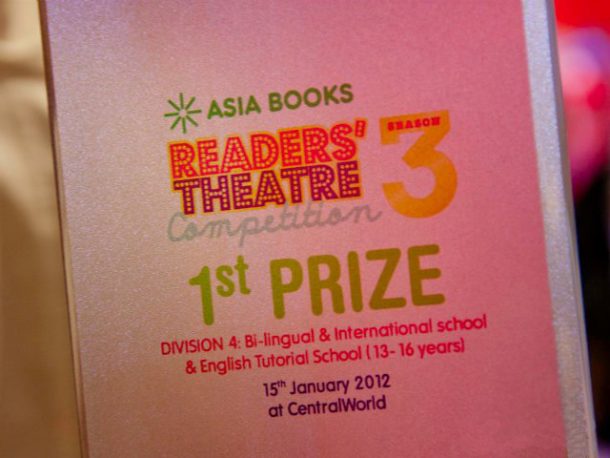 CENTRAL WORLD – Wells International School students continued their winning ways at the 3rd annual Asia Books Readers' Theatre competition. This year, due to the floods, the final round was postponed two months. However, the chosen date was quite appropriate as it coincided with Thailand's celebration of Children's Day. And, despite only having a short week after Christmas Break to polish up their performances, our young Seahawks captured 1st Place in Division 4 (International Schools, ages 14 & up) and 2nd Place in Division 3 (International Schools, ages 13 & below). With more than 15 teams in each division, two Wells teams passed the preliminary round to make it to the final round held on Sunday, January 15.
In the older division, the Wells team comprised three returning members from last year's championship team as well as two newcomers. Veterans Sonya Chawla (Gr. 10), Natalya Silva (Gr. 9), and Akhil Shanishetti (Gr. 9) were joined by Peter Choi (Gr. 8) and Andy Shin (Gr. 8) to form this year's team, performing their rendition of The Talent Show by Jo Hodgkinson. Despite significant improvements in the competition, experience and strong theatrical training proved to be the game changer as Wells once again ended up at the top. An older, but less experienced team from RAIS came in 2nd.
In the younger division, the team of Cindy Shin (Gr. 6), Pavi Tak (Gr. 6) , Darshan Giri Naganathan (Gr. 6), and Asen Liu (Gr. 7) presented their theatrical rendition of the children's picture book What the Ladybird Heard by Julia Donaldson. As defending champions from last year's competition, the young Wells team faced tough competition with familiar foes hailing from Bangkok Patana. When the dust settled, Bangkok Patana, which placed 3rd last year, came up on top, with Wells placing 2nd. A team from Satit Kaset Bilingual School ended up in 3rd.
This is the third year that Wells has participated in the Asia Books competition, and the level of performances from all competitors continues to improve dramatically. Mr. Rhys Griffith, the head of Wells' Fine Arts Department, and master of the theatrical arts, has taken charge of this event since Wells first entered the competition over two years ago.
Congratulations to all participants! More photos of the event can be seen on our official Facebook page.