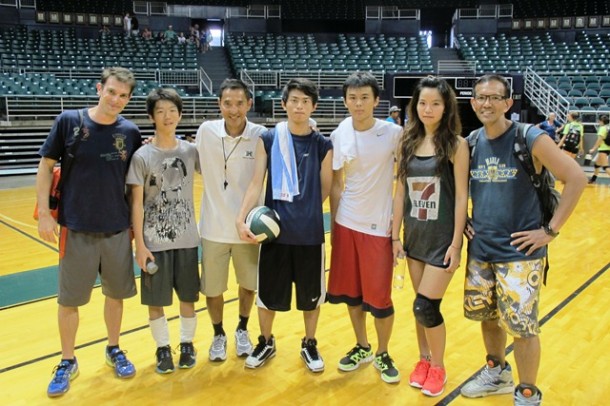 Hawaii, USA – Four Wells Seahawks and their coaches participated in eight days of intensive training with world-class players and university coaches at the University of Hawaii's summer volleyball program held in Honolulu in early July. Along with their coaches Mr. Antonio Boff and Mr. Ray de la Peña, Varsity/JV Girls Volleyball captain Marin Takahashi, Varsity/JV Boys co-captains Bo-An Shang Kuan and Kevin Han, and Under-15 Boys captain Peter Choi traveled on a journey few people can even imagine, let alone experience firsthand.
The adventure began with a three-day tour of the island of Kauai to visit Mr. Ray's childhood home and to get a taste of what it's like to grow up in paradise. Highlights of this side trip included kayaking up a serene tropical river, snorkeling with giant green sea turtles, a coastal kayaking/hiking/swimming trek to an isolated beach and little known turtle nesting site inside an ancient cliff-side lava tube, and, to top it off, a few games of "real" beach volleyball at Kalapaki Bay.
Flying back to the island of Oahu, the remainder of the trip was spent in Honolulu, where the team trained for four hours a day for the next eight days at the University of Hawaii at Manoa. Under the guidance of hall-of-fame coach David Shoji from the UH women's team, and his protégé and UH men's team coach Charlie Wade,  players worked intensively on all the basic skills of the game, including passing, hitting, serving, setting and blocking. With over 150 young volleyball players from across the country participating, the four from Wells were the only players from outside the United States.
The University of Hawaii is a perennial powerhouse in both women's and men's volleyball, and is a hotbed of world-class volleyball talent, including current USA Men's Olympic Team Captain Clayton Stanley and former USA Women's Olympic Team Captain Robyn Ah Mo.