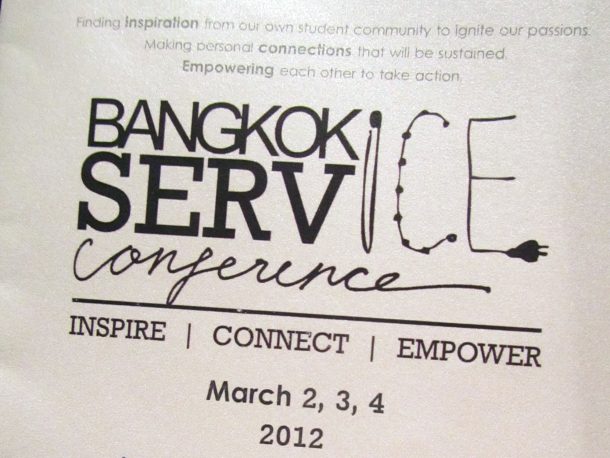 Forgoing their weekend as few teenagers would, a group of Wells students instead recently chose to attend the Bangkok ServICE Conference from March 2nd to 4th, held at New International School of Thailand (NIST). Intended to unite students who want to make a difference in their communities, the interschool conference addresses issues such as poverty, global warming, human trafficking, living with disabilities and human rights. In interacting with their peers from other prestigious international schools in Thailand–including ISB, Bangkok Patana, Regent's Pattaya, Regent's Bangkok, KIS, Harrow, ICS, TCIS and Shrewsbury–the Wells participants discovered ways in which they could make a positive impact both in Thailand and beyond its borders.
Beginning with ice breakers that relieved some of the initial tension, the conference jumped head-on into its serious themes, as inspiring guest speakers from the United Nations, Wildlife Friends of Thailand and more presented information about their causes and offered the participants advice regarding activism. Students from the participating schools even showcased their own community service clubs and booths to inspire others to take actions in their school communities, holding true to the ultimate goal of the conference: to interact and connect, and to inspire one another.
Over the course of the three days event, from morning to evening, the Wells students took part in group activities, discussions and ending with a flash mob led by ISB students in Terminal 21 to raise awareness of dolphins. Throughout the process they learned various methods through which they could discover more information about current issues, critically analyze those issues in order to determine the best courses of action, and to rally others to support the causes. Already they have had the opportunity to put this into practice as the Kony 2012 movement has spread rapidly through the Internet. Intended to raise awareness of Joseph Kony, the rogue militant leader of the Lord's Resistance Army in Africa and a wanted criminal, the cause has been both praised and criticized from various sides. The Wells activists, drawing on their new knowledge, have engaged in both online and in-school discussion of the issue, seeking to define their stances and take positive actions in the movement–actions that rely on critical engagement of the many issues involved.
Thanks to the Wells staff who went above and beyond the call of duty in guiding the students (Ms. Cindy, Mr. Henry, Mr. Peng and Ms. Nicki), and congratulations to all of the participants in the Bangkok ServICE conference: Akhil (Grade 9), Asen (Grade 7), Chariya (Grade 11), Daryl (Grade 11), Gautham (Grade 11), Peter (Grade 8), Mary (Grade 11), Junior (Grade 11) and Cathy (Grade 11). We hope that all Wells students will continue to find ways in which they can change the world for the better. More information about the Bangkok ServICE Conference can be found on the official website, and additional pictures of the events can be seen on our Facebook page.